SFWRITER.COM > Novels > Fossil Hunter

---

The Quintaglio Ascension Trilogy #2
FOSSIL HUNTER
A novel by Robert J. Sawyer
Ace, May 1993, ISBN 0-441-24884-5, US$4.99 / CDN$5.99
Tor reprint edition, March 2005, ISBN 0-765-30793-4, US$14.95 / CDN$21.95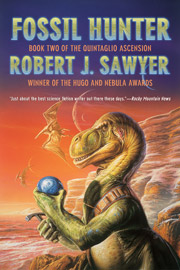 The story of the dinosaurian equivalent of Darwin.
"Brilliant. Although obviously aimed at the SF crowd, it deserves a much wider readership." — Books in Canada
Starred review in Quill & Quire
Starred review in KLIATT
Winner of the CompuServe HOMer Award for Best Novel of 1993
---
Buy the Fossil Hunter TRADE PAPERBACK from your Favorite Local Bookseller, or

Or buy an Autographed Copy directly from Rob!

---
No Bookseller Left Behind! If your store routinely stocks new copies of Fossil Hunter, and offers a mail-order service, send an email to Rob with the URL of your catalog page for Fossil Hunter, and he'll add a link to it right here.

And if you'd like a supply of free autographed Fossil Hunter bookplates for your customers, just let Rob know how many you need and where to send them.
---
More Good Reading
Far-Seer, the 1st book in the Quintaglio trilogy
Foreigner, the 3rd book in the Quintaglio trilogy
Other novels by Robert J. Sawyer
Some of Rob's Short Stories have dinosaurs in them, too

---
---