SFWRITER.COM > Novels > Red Planet Blues

---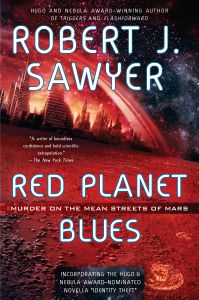 RED PLANET BLUES
The New Novel by Hugo and Nebula Award Winner
Robert J. Sawyer
"A terrific noir crime novel that is full of the wonders of Sawyer's sci-fi world. In Red Planet Blues Sawyer has imagined, and written, his best book yet." —Eric Wright
"A tour de force. A fusion of the two genres in which the mystery depends on the SF elements." —Analog Science Fiction and Fact
"A rollicking read, at turns funny, exciting and full of twists and turns." —The Daytona Beach News-Journal
"An excellent detective novel that just happens to take place on another planet. It's a genre mash-up that might have felt gimmicky in less capable hands; however, with Sawyer at the helm, it succeeds beautifully." —The Maine Edge
Maclean's bestseller!
Globe and Mail bestseller!
Locus bestseller!

Hardcover from Ace Science Fiction (US) and Penguin (Canada)
UK edition from Orion Gollancz
Paperback now out!
Unabridged audio version from Audible.com
eBook editions in Kindle, Kobo, Nook, iBooks, and Sony Reader formats
A main selection of the Science Fiction Book Club
---
Cover Blurb:
My name is Alex Lomax. I'm a P.I. working the mean streets of New¨ Klondike, the domed Martian city that sprang to life in the wake¨ of the booming fossil market. Roughly forty years ago, Simon¨ Weingarten and Denny O'Reilly discovered evidence of ancient life¨ on Mars, and these fossils quickly became valuable sought-after¨ antiquities for collectors on Earth. Then the wannabe treasure¨ hunters swarmed here, suffering from fossil fever, to take part¨ in "the Great Martian Fossil Rush," hoping to strike it rich.

So I ply my trade among the failed prospectors, corrupt cops, and¨ "transfers" — folks wealthy enough to upload their consciousness¨ into near-immortal android bodies — trying to make an honest¨ buck in a dishonest world. But now the motherlode of all cold¨ cases has just landed in my lap: the decades-old murders of¨ Weingarten and O'Reilly — and God only knows what I may dig¨ up ...
---
More about Red Planet Blues:
---
Ace Hardcover [USA] April 2013
ISBN-13: 978-0-425256-82-4 / ISBN-10: 0-425256-82-0


Ace Paperback [USA] April 2014
ISBN-13: 978-0-425-25641-1 / ISBN-10: 0-425-25641-3


Viking Canada Hardcover April 2013
ISBN-13: 978-0-670-06577-6 / ISBN-10: 0-670-06577-3


Gollancz UK edition Information to come



Unabridged audiobook of Red Planet Blues from Audible.com

---
Buy the Red Planet Blues HARDCOVER from your Favorite Local Bookseller, or

Or buy an Autographed Copy directly from Rob!

---
No Bookseller Left Behind! If your store routinely stocks new copies of Red Planet Blues, and offers a mail-order service, send an email to Rob with the URL of your catalog page for Red Planet Blues, and he'll add a link to it right here.

And if you'd like a supply of free autographed Red Planet Blues bookplates for your customers, just let Rob know how many you need and where to send them.
---
More Good Reading
Other novels by Robert J. Sawyer

---
---