---
SFWRITER.COM > Novels > Illegal Alien > Catalog Copy (SFBC)

---
SFBC Catalog Copy
Illegal Alien
by Nebula Award Winner
Robert J. Sawyer
Description from the March 1998 issue of Things To Come, the monthly catalog of the Science Fiction Book Club.
---
Had the first ambassadors to Earth committed murder?
---
The aliens came to Earth to make contact with the human race, and Dr. Clete Calhoun, the host of a popular PBS science series who was to participate in that historic first meeting, was in astronomer heaven. Befriending the alien Hask and his fellow Tosoks, Clete was assigned to the group who would shepherd the Tosoks around Earth and who would live with and study them. They'd have ample time to do so, for the seven aliens who had survived the long journey needed help to repair their damaged ship and were willing to trade technology to get it. No one could have wished for a more profitable first contact.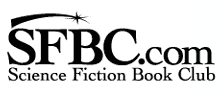 Everything was going perfectly — until Clete was found brutally murdered and all the evidence pointed to Hask. But why would the alien coldbloodedly dissect the human who had been his closest friend? And if he had committed such a horrifying act, did the people of Earth dare antagonize the Tosoks by finding him guilty?
From the best-selling author of Starplex
---
More Good Reading
More About Illegal Alien
Other cover blurbs

---
---
Copyright © 1995-2020 by Robert J. Sawyer.