---
SFWRITER.COM > Canadian SF

---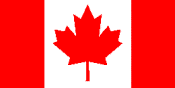 Canadian Science Fiction Home Page
Canadian Science Fiction is a wide and varied field, with many authors of international stature working within it: on a per capita basis, Canada has more world-class science-fiction writers than any country on Earth. Below are essays, links, and resources about science fiction by Canadians.
---
Overview:
Essays:
Newsnotes and Lists:
Fiction:
Encyclopedia Galactica entries on:
Interviews with or profiles of Canadian SF authors:
Science Fiction: The Interdisciplinary Genre:
(The biggest and best academic conference ever held about Canadian science fiction, McMaster University, September 2013)
Reviews of Canadian Science Fiction Books:
Robert J. Sawyer Books
Distant Early Warnings: Canada's Best Science Fiction:
Tesseracts 6:
Crossing the Line:
Aurora Awards:
Other:
---
More Good Reading
Nonfiction by Robert J. Sawyer
Canadian SF Works Database (founded by Marcel Gagné and Robert J. Sawyer)
---
---
Copyright © 1995-2020 by Robert J. Sawyer.