---
SFWRITER.COM > About Rob > Press Releases > Four Aurora Nominations

---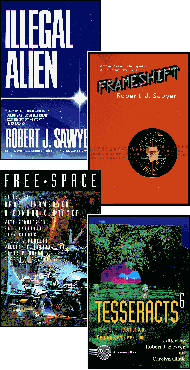 Robert J. Sawyer News: June 1998
Four Aurora Nominations for Sawyer!
Robert J. Sawyer has an unprecedented four nominations for the 1998 Canadian Science Fiction and Fantasy Awards ("the Auroras").
Two of the five finalists for Best English-Language Novel are by Rob: Frameshift (published by Tor) and Illegal Alien (published by Ace). Rob's "The Hand You're Dealt" (first published in the Tor anthology Free Space, edited by Brad Linaweaver and Edward E. Kramer) is one of eight finalists for Best English-Language Short Story. Meanwhile, the anthology Tesseracts 6, edited by Rob and his wife Carolyn Clink, is a finalist in the Best English "Other" category (and four of the other short-story finalists come from that book).
Frameshift and Illegal Alien have already shared one ballot together: they were both finalists for the Eighth Annual HOMer Award for Best Novel of the Year, voted on by the 30,000 members of the SF Forums on CompuServe. In addition, Frameshift and "The Hand You're Dealt" are both current finalists for the Hugo Award (SF's international reader's choice award). And both Illegal Alien and "The Hand You're Dealt" — which are SF/mystery crossovers — were finalists for Arthur Ellis Awards from the Crime Writers of Canada.
The Aurora Award winners will be announced October 3, 1998, in Montreal at ConCept, this year's Canadian National Science Fiction Convention.
---
More Good Reading
1998 Aurora Awards a Battle of the SF Titans
Press Release index

---
---
Copyright © 1995-2020 by Robert J. Sawyer.