---
SFWRITER.COM > Anthologies > Crossing the Line: About the Contributors

---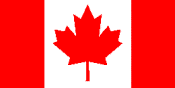 Crossing the Line
About the Contributors
---
Crossing the Line is a standalone reprint anthology of Canadian mystery stories that also happen to be science fiction, fantasy, or horror. Robert J. Sawyer (the President of the Science Fiction and Fantasy Writers of America) and David Skene-Melvin (former administrator of the Crime Writers of Canada) edited this book, which was published by Pottersfield Press of Nova Scotia in October 1998. What follows are the notes on the contributors that appeared at the back of that volume.
---
Robertson Davies ("The Ghost Who Vanished by Degrees") is one of Canada's most-honoured writers. Best known for his Deptford Trilogy (Fifth Business, The Manticore, and World of Wonders), he is also the author of the World Fantasy Award-winning collection High Spirits.
Charles de Lint ("Dead Man's Shoes") is a full-time writer and musician who presently makes his home in Ottawa with his wife MaryAnn Harris, an artist and musician. His most recent novel is Someplace to Be Flying (Tor Books, 1997). For more information about his work, visit his website at www.cyberus.ca/~cdl.
James Alan Gardner ("Three Hearings . . .") lives in Kitchener, Ontario, with his wife Linda Carson, and a cantankerous rabbit. He has published two SF novels, Expendable and Commitment Hour, both from Avon. He has also published numerous pieces of short fiction in such places as Amazing, The Magazine of Fantasy and Science Fiction, and Asimov's Science Fiction Magazine.
William Gibson ("Burning Chrome") coined the term "cyberspace." He has won the Hugo, Nebula, Aurora, and Philip K. Dick Awards. His bestselling novels include Neuromancer, Count Zero, Mona Lisa Overdrive, Virtual Light, and Idoru. He lives in Vancouver.
Terence M. Green ("Barking Dogs") was born in Toronto (1947), where he still lives with his wife and two sons. His novels include Barking Dogs, Children of the Rainbow, Shadow of Ashland, Blue Limbo, and A Witness to Life. He has been a finalist for the World Fantasy Award, the Arthur Ellis Award, and the Aurora Award.
Tanya Huff ("This Town Ain't Big Enough") lives and writes in Prince Edward County, Ontario. Her latest book, Summon The Keeper, is a stand-alone contemporary fantasy from out from DAW in May 1998. Her next book will be The Quartered Sea, also from DAW, out in the summer of 1999.
James Powell ("Dark Possessions") was born in Toronto in 1932, and is still a Canadian citizen, although he lives in Marietta, Pennsylvania with his American wife. His work has appeared in Ellery Queen's Mystery Magazine, Playboy, The Best Detective Stories of the Year, and The Year's Best Fantasy and Horror.
Spider Robinson ("God is an Iron") has won three Hugos, a Nebula, the John W. Campbell Award for Best New Writer, the E. E. ("Doc") Smith Memorial Award (Skylark), the Pat Terry Memorial Award for Humorous Science Fiction, and Locus Awards for Best Novella and Best Critic. His most recent publications are a story/essay collection, User Friendly, a new novel, Lifehouse, and the newest installment in his Callahan's Place series, Callahan's Legacy. He lives in Vancouver with his wife Jeanne.
Edo van Belkom ("The Rug") of Brampton, Ontario, is the author of over 120 stories, two of which have been Arthur Ellis Award finalists. He is also the author of the novels Wyrm Wolf, Lord Soth, and Mister Magick; a short story collection, Death Drives a Semi; and a book of non-fiction, Northern Dreamers. His home page is located at www.horrornet.com/belkom.htm.
Andrew Weiner ("The Map") has written half a dozen SF/mystery crossover stories, along with an SF murder mystery novel, Station Gehenna. His short stories are collected in two volumes: Distant Signals and This Is The Year Zero. He lives in one Toronto or another.
---
About the Editors
Robert J. Sawyer is President of the Science Fiction and Fantasy Writers of America. He has won both the Arthur Ellis Award (Canada's top honour in crime-fiction writing) and the Aurora Award (Canada's top SF award) — as well as the Nebula Award (the "Academy Award" of SF) for Best Novel of the Year. Rob is the author of eleven novels, many of which combine the SF and mystery genres: Golden Fleece, Far-Seer, Fossil Hunter, Foreigner, End of an Era, The Terminal Experiment, Starplex, Frameshift, Illegal Alien (which The Globe and Mail called "the best Canadian mystery of 1997"), Factoring Humanity, and FlashForward. He lives in Thornhill, Ontario, with his wife, poet Carolyn Clink. Visit his web site at www.sfwriter.com.

David Skene-Melvin is a literary historian, editor, reviewer, publishing and marketing consultant, and antiquarian book appraiser specializing in Canadian crime writing. He has edited numerous anthologies, including Crime in a Cold Climate, Investigating Women, Bloody York, and Secret Tales of the Arctic Trails, and many reference works, among them Crime, Detective, Espionage, Mystery, and Thriller Fiction & Film (compiled with his wife Ann) and Northern Crimes. A noted Sherlockian scholar, his contributions to the study of the Master have been acknowledged with investiture in the Baker Street Irregulars. For many years, David was administrator of the Crime Writers of Canada. He lives in Toronto with his wife Ann.
---
More Good Reading
Table of Contents to Crossing the Line
Introduction to Crossing the Line
Cover Art for Crossing the Line

Encyclopedia Galactica entry on Canadian SF
Is Canadian SF Different From American SF?
Northern Lights: ten years of news notes about Canadian SF authors

---
---
Copyright © 1995-2020 by Robert J. Sawyer.