---
SFWRITER.COM > Canadian SF > Recommended Canadian SF

---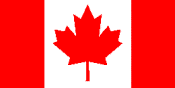 Robert J. Sawyer's
Recommended Canadian
Science Fiction Novels
from The Writer's Map of Canada
edited by John Robert Colombo
Copyright © 1993 by Robert J. Sawyer
All Rights Reserved

---
Robert J. Sawyer of Thornhill, Ontario, is the multiple-award-winning author of the SF novels Golden Fleece, Far-Seer, Fossil Hunter, Foreigner, and End of an Era. He is also The Canadian Encyclopedia's authority on SF, a commentator on SF for CBC Radio's Ideas series, and Canadian Regional Director of the Science Fiction and Fantasy Writers of America.
On January 11, 1993, Canada's "Master Gatherer" John Robert Colombo asked Sawyer for his choices for ten great SF novels written in Canada, to be included on Colombo's Writer's Map of Toronto. Here are Sawyer's choices:
The Handmaid's Tale by Margaret Atwood of Toronto (1985). Winner of the Governor General's Award, a chilling tale of sexual repression in the near future.

Neuromancer by William Gibson of Vancouver (1984). Winner of the Nebula Award; a gritty, hip novel about going inside a computer's mind.

A Judgment of Dragons by Phyllis Gotlieb of Toronto (1980). World-spanning far-future SF — a real space odyssey!

Children of the Rainbow by Terence M. Green of Toronto (1992). A sensitive, literate time-travel novel.

Courtship Rite by Donald Kingsbury of Montreal (1982). A vivid and intricate tale about a human colony on a harsh and distant world.

Stardance by Spider and Jeanne Robinson of Vancouver (1979). The Hugo- and Nebula-winning novel about dancing in zero-gravity.

Marching Through Georgia by S. M. Stirling of Toronto (1988). A brutal alternative history in which United Empire Loyalists escape to found a new superpower in South Africa.

Slan by A. E. van Vogt, then a resident of Toronto (1946). One of the all-time classics of SF; a fast-paced story about mutant humans with psychic powers. [Slan was reprinted in 1998 by Tor as part of its Canadian Author program]

The Silent City by Élisabeth Vonarburg of Chicoutimi (1988). A moving exploration of a feminist future by a French-Canadian author, available in an English translation.

Memory Wire by Robert Charles Wilson of Vancouver (1987). Haunting and memorable — the kind of probing character study that's only possible in SF.
---
More Good Reading
More about Canadian science fiction
Sawyer's Picks — recommended SF books
SF for those who've never read SF before

---
---
Copyright © 1995-2020 by Robert J. Sawyer.