---
SFWRITER.COM > Short Stories > Contents: Northern Stars

---
Northern Stars
Edited by David G. Hartwell and Glenn Grant
Published by Tor (0-886-77566-3) in August 1994, 384pp., hardcover.
A selection of the Quality Paperback Book Club.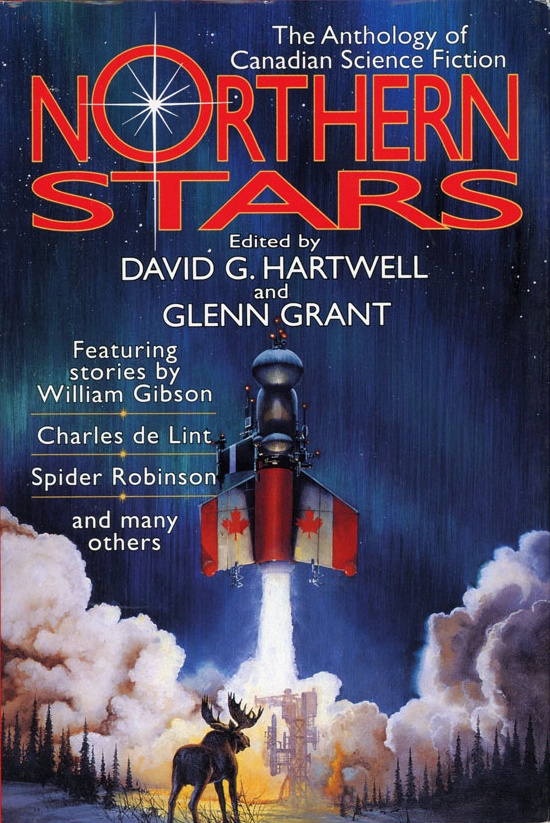 Table of Contents:
"A Niche" by Peter Watts
"Mother Lode" by Phyllis Gotlieb
"Home by the Sea" by Élisabeth Vonarburg; translated by Jane Brierley
"Under Another Moon" by Dave Duncan
"Remember, the Dead Say" by Jean-Louis Trudel
"One" by Heather Spears
"The Loneliness of the Long-Distance Writer" by Lesley Choyce
"User Friendly" by Spider Robinson
"Distant Signals" by Andrew Weiner
"The Woman Who Is the Midnight Wind" by Terence M. Green
"The Winter Market" by William Gibson
"The Byrds" by Michael G. Coney
"Soluble-Fish" by Joël Champetier; translated by Louise Samson
"Memetic Drift" by Glenn Grant
"The Reckoning of Gifts" by James Alan Gardner
"The Cauldron" by Donald M. Kingsbury
"Happy Days in Old Chernobyl" by Claude-Michel Prévost; translated by John Greene
"Pity the Monsters" by Charles de Lint
"Carpe Diem" by Eileen Kernaghan
"Xils" by Esther Rochon; translated by Lucille Nelson
"Stolen Fires" by Yves Meynard
"Retrieval" by John Park
"Outport" by Garfield Reeves-Stevens
"Stardust Boulevard" by Daniel Sernine; translated by Jane Brierley
"Ballads in 3/4 Time" by Robert Charles Wilson
"(Learning About) Machine Sex" by Candas Jane Dorsey
Afterword by Judith Merril
---
More Good Reading
2006 Special Report on Canadian SF
Other Canadian SF Anthologies:
Rob's Short-Fiction Bibliography
---
---
Copyright © 1995-2020 by Robert J. Sawyer.