---
SFWRITER.COM > Novels > Factoring Humanity > UK Cover

---
British / Australian Cover
Factoring Humanity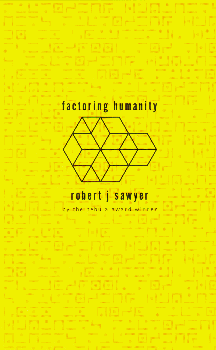 Cover of the British / Australian edition of Factoring Humanity, published by HarperCollins Voyager in January 1999.
The cover is much more striking than this picture might indicate. The book has a matte finish, except for the little geometric shapes in the background, which are varnished. Indeed, I think this is the classiest-looking of all my book covers to date. Take a look at the British cover for Frameshift. They make a great pair!
ISBN 0-00-651186-4, UK: 5.99 pounds / Australia: A$13.95.
---
More Good Reading
More about Factoring Humanity
cover art index

---
---
Copyright © 1995-2016 by Robert J. Sawyer.