---
SFWRITER.COM > Novels > Factoring Humanity > North American Cover

---
North American Covers
Factoring Humanity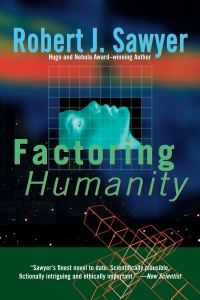 Covers of the North American edition of Factoring Humanity, published by Tor.
The June 1998 hardcover (ISBN 0-312-86458-2) is on the left, the May 1999 paperback (ISBN 0-812-57129-0) is in the middle, and the 2004 Orb trade paperback (ISBN 0-765-30903-3) is on the right.
Click on the trade paperback (far right) for a larger version.
The woman depicted in negative is Heather Davis, the novel's main character. Four-dimensional geometry figures in the plot, hence the extended unfolded tesseract at the bottom. On the hardcover dustjacket, only the black rectangle containing Heather's face is varnished (giving it a glossy finish); the rest of the cover has an unvarnished matte finish.
For the curious, here's Heather in positive image: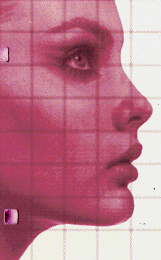 ---
Jacket art and design by Shelley Eshkar and Jan Uretsky.
---
More Good Reading
More about Factoring Humanity
cover art index

---
---
Copyright © 1995-2020 by Robert J. Sawyer.