---
SFWRITER.COM > About Rob > Arthur Ellis Award

---
Arthur Ellis Award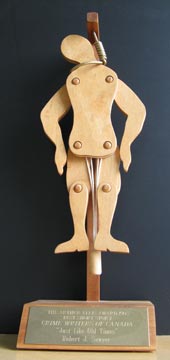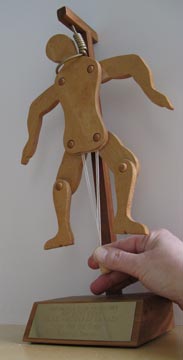 The Crime Writers of Canada's Arthur Ellis Award is named after the pseudonym used by Canada's last official hangman. When you pull the cord attached to the trophy, the poor fellow hanging from the noose does death spasms . . .
The trophies are designed and built by Canadian artist Barry Lambeck.
I won the Arthur Ellis Award for Best Short Story of 1993 for my story "Just Like Old Times," commissioned for Mike Resnick's anthology Dinosaur Fantastic, and first published in On Spec magazine.
The award was presented Wednesday, June 1, 1994, at the Faculty Club at the University of Toronto. As I posted online on GEnie that evening:
Well, I'm a happy guy ...

I'm delighted to announce that my "Just Like Old Times," which was the lead story in Mike Resnick and Martin H. Greenberg's anthology Dinosaur Fantastic and also appeared in Canada's On Spec: The Canadian Magazine of Speculative Writing, tonight won the Crime Writers of Canada's Arthur Ellis Award for Best Short Story of 1993. This was the eleventh year these juried awards have been given out. The presentation was made at a banquet held at the Faculty Club of the University of Toronto.

The other short-story nominees were:

James R. Petrin for "East End Safe" in Alfred Hitchcock's Mystery Magazine
James Powell for "The Fixer-Upper" in Ellery Queen's Mystery Magazine
Eric Wright for "The Casebook of Dr. Billingsgate" in The New Mystery (Dutton, New York), and
Eric Wright again for "The Duke" in 2nd Culprit (Chatto & Windus, London).

The award trophy is wonderful: a wooden articulated figure of a human hanging from a brass noose attached to a wood gallows. There's a little pull cord; yank it, and the poor guy goes through death spasms.

It also was a heady experience to win over Eric Wright (whom I met for the first time yesterday at the annual Hangman's Night reception for nominees at Toronto's venerable Sleuth of Baker Street bookstore. Eric is my favorite contemporary author, bar none.

The other SF work nominated this year, William Gibson's novel Virtual Light, didn't win. The winning novel was Gypsy Sins ("A Joe McGuire Mystery") by was John Lawrence Reynolds, published by HarperCollins.
---
Photographs by Carolyn Clink.
---
More Good Reading
More about Rob's winning story
The full text of "Just Like Old Times"
Rob's 1998 double Arthur Ellis Award nominations
Awards and Honors
Review Excerpts

---
---
Copyright © 1995-2020 by Robert J. Sawyer.