---
SFWRITER.COM > Novels > Golden Fleece > Vulpecula Radio Message

---
Vulpecula Radio Message
Copyright © 1990 by Robert J. Sawyer
All Rights Reserved.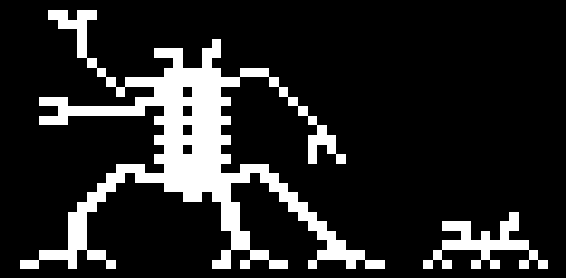 Decoded Drake pictogram contained in radio message from the constellation Vulpecula, detected in A.D. 2175 by the Spielberg radio telescope in Mechnikov Crater, part of the University of California at Far Side.
The message consists of 1,711 zero and one bits — the product of the prime numbers 29 and 59. Arranging the bits in 29 rows of 59 columns produces the image shown, apparently a depiction of the beings — dubbed "tripod" and "pup" — who sent the message . . .
From the novel Golden Fleece by Robert J. Sawyer.
---
More Good Reading
More about Golden Fleece
Alien radio message from Factoring Humanity
---
---
Copyright © 1995-2020 by Robert J. Sawyer.