---
SFWRITER.COM > Latest News > Most Collectible

---
Robert J. Sawyer's Latest News
Factoring Humanity
The Most Collectible SF Book of 1998!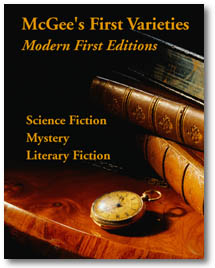 McGee's First Varieties, the renowned mail-order house for rare literary fiction, science fiction, and mystery books in Brentwood, Tennessee, has named Robert J. Sawyer's Factoring Humanity the "Most Collectible Science Fiction Book of 1998" — the first-edition hardcover they're singling out as a hot tip for collectors as the book likely to appreciate the most in value over the years. The list appears on McGee's website at www.mcgees1st.com.
McGee's full list of 1998's "Most Collectible SF" has nine books on it:
Robert J. Sawyer, Factoring Humanity
Mary Doria Russell, Children of God
Jack McDevitt, Moonfall
Lois McMaster Bujold, Komarr
Kim Stanley Robinson, Antarctica
Nancy Kress, Maximum Light
Patricia Anthony, Flanders
Connie Willis, To Say Nothing of the Dog
Gregory Benford, Cosm
Says McGee's December 12, 1998, catalog: "If you only have time to read one of this year's science fiction novels, let it be Factoring Humanity. It gets my vote for the best SF novel of 1998."
(Meanwhile, Factoring Humanity also appeared on The Ottawa Citizen's list of 1998's top-nine fiction titles of any type.)
---
More Good Reading
---
---
Copyright © 1995-2020 by Robert J. Sawyer.