---
SFWRITER.COM > Rollback Book Tour

---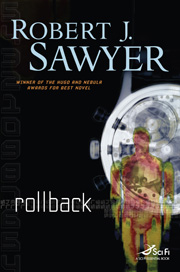 Rollback Book Tour

The launch of Robert J. Sawyer's 17th novel, Rollback, was supported by a massive eighteen-city book tour in Canada and the United States.
Numerous reports on the book tour appear in Robert J. Sawyer's blog for April, May, and June 2007.
(Rob's frequently updated list of upcoming appearances is here.)
The Rollback book tour:
---
More Good Reading
More about Rollback


Rob's other upcoming appearances


Booking Rob as a speaker


Rob's stints as guest of honor
Rob's keynote addresses
Quotes from event organizers

---
---
Copyright © 1995-2016 by Robert J. Sawyer.