---
SFWRITER.COM > Novels > Triggers > Blurbs

---
Triggers (US Edition)
by Robert J. Sawyer
Hugo and Nebula Award-Winning Author
---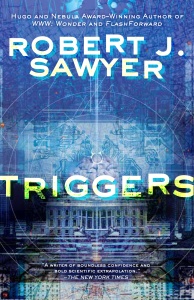 Front Cover
Hugo and Nebula Award-Winning Author of
WWW:Wonder and FlashForward
ROBERT J. SAWYER
TRIGGERS
"A writer of boundless confidence and bold scientific extrapolation." — The New York Times
---
Front Flap
$25.95
"When people call science fiction a literature of ideas, they mean Robert J. Sawyer,"* the Hugo and Nebula award-winning author of the WWW trilogy, whose stellar imagination explores a thought-provoking premise in this near-future thriller...

On the eve of a secret military operation, an assassin's bullet strikes President Seth Jerrison. He is rushed to the hospital, where surgeons struggle to save his life.
At the same hospital, Professor Ranjip Singh is experimenting with a device that can erase traumatic memories.
Then a terrorist bomb detonates. In the operating room, the president suffers cardiac arrest. He has a near-death experience — but the memories that flash through Jerrison's mind are not his own.
It quickly becomes clear that the electromagnetic pulse generated by the bomb amplified and scrambled Dr. Singh's equipment, allowing a random group of people to access one another's minds.
And now one of those people can retrieve the president's memories — including classified information regarding the upcoming military mission, which, if revealed, could cost countless lives. But the task of determining who has switched memories with whom is a daunting one — particularly when some of the people involved have reason to lie ...

* SCI-FI Magazine
---
Spine
Hugo and Nebula Award-Winning Author
ROBERT J. SAWYER

TRIGGERS

Ace
---
Back Cover
Praise for the WWW Trilogy
"Unforgettable. Impossible to put down."
— Jack McDevitt,
Nebula Award-winning author of Firebird
"A superb work of day-after-tomorrow science fiction — I enjoyed every page."
— Allen Steele,
Hugo Award-winning author of Hex
"Not just an adventure story, Wonder is also (like its predecessors) a starting point for speculations on ethics and morality, the meaning of consciousness and conscience, and the place of intelligence in the cosmos. This is Robert J. Sawyer at his very best."
— Analog
"Cracking open a new Robert Sawyer book is like getting a gift from a friend who visits all the strange and undiscovered places in the world. You can't wait to see what he's going to amaze you with this time."
— John Scalzi,
New York Times bestselling author of Fuzzy Nation

"The thought-provoking first installment of Sawyer's WWW trilogy explores the origins and emergence of consciousness. The thematic diversity—and profundity—makes this one of Sawyer's strongest works to date."
— Publishers Weekly (starred review)

ISBN 978-1-937007-16-4
---
Back Flap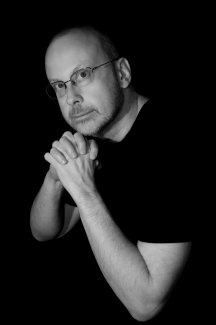 Robert J. Sawyer was born in Ottawa and lives just outside of Toronto, Canada. He has won both the Hugo and Nebula Awards for best novel. The ABC TV series FlashForward was based on his novel of the same name.
Connect Online
www.sfwriter.com
www.facebook.com/robertjsawyer
www.twitter.com/RobertJSawyer

Photo by Christina Molendyk
Jacket design by Diana Kolsky
Jacket illustration by Stephan Martiniere
Visit our website at www.penguin.com
An Ace Book
Published by the Berkley Publishing Group
A Division of Penguin Group (USA) Inc.
375 Hudson Street
New York, New York 10014

4/12
---
More Good Reading
More about Triggers
Cover copy from Rob's other novels More novels by Rob

---
---
Copyright © 1995-2020 by Robert J. Sawyer.