---
SFWRITER.COM > Novels > Terminal Experiment > Canadian Cover

---
Canadian Cover
The Terminal Experiment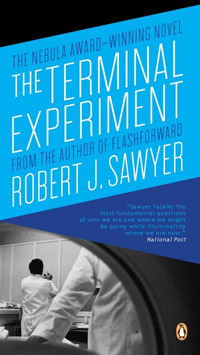 Cover of the Canadian reprint edition of The Terminal Experiment, published by Penguin (Canada).
The November 2009 premium-sized paperback (ISBN 978-0-14-317511-7).

I love the mainstream look of this book and its sister book Illegal Alien. Many thanks to my Canadian publisher for giving these two books a new lease on life.
---
Cover photograph by Francesca Gambi/Getty Images.
Cover design by David A. Gee.

---
More Good Reading
More about The Terminal Experiment
cover art index

---
---
Copyright © 1995-2020 by Robert J. Sawyer.