---
SFWRITER.COM > Novels > Illegal Alien > North American Cover

---
North American Covers
Illegal Alien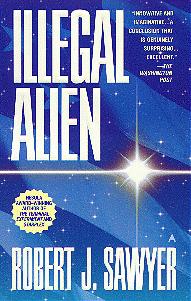 Covers of the North American editions of Illegal Alien, published by Ace.
The December 1998 hardcover (ISBN 0-441-00476-8) is on the left, and the January 1999 paperback (ISBN 0-441-00592-6) is on the right. The starburst on the lower-left of the paperback cover says "Nebula Award-Winning Author of The Terminal Experiment and Starplex". These are my favorite North American covers for any of my books.
It's very subtle, but the backdrop (behind the spacescape) is actually a faded version of the American flag, symbolizing faded American justice. (The stars are in the upper left and the stripes ripple diagonally from upper left to lower right.)
---
Jacket painting by Danilo Ducak.
Jacket design by David S. Rheinhardt.
---
More Good Reading
More about Illegal Alien
cover art index

---
---
Copyright © 1995-2016 by Robert J. Sawyer.