---
SFWRITER.COM > About Rob > Press Releases > Nebula Win (1996)

---
Press Release
For Release Saturday, April 27, 1996
Canadian Author Wins "The Academy Award of Science Fiction"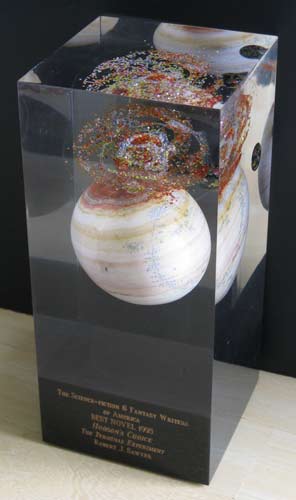 Thornhill, Ontario, writer Robert J. Sawyer has won the Nebula Award — the "Academy Award" of Science Fiction — for Best Novel of the Year. His winning novel, The Terminal Experiment, is set in Toronto fifteen years from now. It tells the story of Peter Hobson, a biomedical engineer who discovers scientific proof for the existence of the human soul.
The Terminal Experiment was a May 1995 title from HarperPrism, the SF imprint of HarperCollins USA. The Nebula Award was presented to Sawyer at a banquet aboard the HMS Queen Mary off Long Beach, California, on Saturday, April 27, 1996.

The Nebulas are voted on and presented by the Science Fiction and Fantasy Writers of America, which has 1,100 members in 23 countries. Sawyer's win is the first for a Canadian since William Gibson received the prize for his 1984 novel Neuromancer.
Previous Nebula Award winners include such SF classics as Frank Herbert's Dune, Ursula K. Le Guin's The Left Hand of Darkness, Arthur C. Clarke's Rendezvous with Rama, and Isaac Asimov's The Gods Themselves.
The other nominees for the Best-Novel Nebula Award this year were all Americans: Metropolitan by Walter Jon Williams (also published by HarperPrism), and the following titles from Tor Books: Mother of Storms by John Barnes, Beggars and Choosers by Nancy Kress, Celestis by Paul Park, and Calde of the Long Sun by Gene Wolfe.
Sawyer's The Terminal Experiment is also one of five finalists for the Hugo Award — SF's "People's Choice" Award. The Hugo winner will be announced at the 54th Annual World Science Fiction Convention in Los Angeles, over Labour Day weekend.
Sawyer has twice won the Canadian Science Fiction and Fantasy Award ("the Aurora"), as well as an Arthur Ellis Award from the Crime Writers of Canada. His previous novels are Golden Fleece, Far-Seer, Fossil Hunter, Foreigner, and End of an Era. His next novel, Starplex, will be released in October 1996.
---
More Good Reading
More about The Terminal Experiment

Robert J. Sawyer's essay on winning the Nebula Award
Chronological list of Best Novel Nebula Winners
Alphabetical list of all authors who have won best-novel Nebulas
Alphabetical list of all novels that have won best-novel Nebulas

Press Release index
Top Ten Things to Know About Robert J. Sawyer
Rob's Newsletter

Rob won the 2006 Campbell!
Rob won the 2003 Hugo!

---
---
Copyright © 1995-2020 by Robert J. Sawyer.