---
SFWRITER.COM > About Rob > Nebula Award > On Winning the Nebula Award

---
On Winning the Nebula Award
by Robert J. Sawyer
Copyright © 1996 by Robert J. Sawyer
All Rights Reserved.
---
Published in the Fall 1996 issue of NorthWords.
---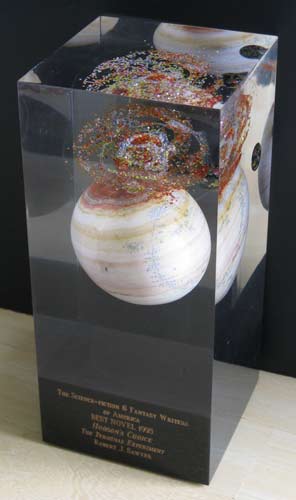 My life changed forever on Saturday, April 27, 1996, at 10:15 in the evening. That's the moment at which Sheila Finch, the designated presenter of the Science Fiction and Fantasy Writers of America's Nebula Award for Best Novel of 1995, opened the envelope and announced, "And the winner is Robert J. Sawyer, for The Terminal Experiment."
Frankly, I was stunned at winning the "Academy Award" of SF. When my name was called, I was sitting at the Analog table in the ballroom aboard the HMS Queen Mary, moored off Long Beach, California. We'd sat through a surprisingly good banquet (choice of filet mignon, swordfish, or pasta primavera), then a long, boring speech by a NASA scientist (you could tell it was boring because even at the Analog table, where you'd expect to find people particularly interested in the space program, one by one each person gave up listening and instead turned to reading the program book), and we'd applauded the winners of the short story, novelette, and novella Nebula Awards (Esther Friesner, Ursula K. Le Guin, and Elizabeth Hand, respectively). Everything was being covered by a TV crew from The Sci-Fi Channel.
On my right was my wife, Carolyn Clink; on my left, Dr. Stanley Schmidt, the editor of Analog. Stan, who had serialized The Terminal Experiment before its book publication, grabbed my hand and started pumping furiously. "Let me be the first to congratulate you!" Carolyn had to wait her turn . . .
I'd honestly thought I was going to lose. In many ways, the odds were stacked against me. The Terminal Experiment, which I'd written on spec without a contract, had turned out to be a very difficult sell: many publishers were nervous about its discussion of the abortion issue (for all its creative virtues, SF in the United States is a business, and books have to sell in the Bible Belt as well as in the North).
The Terminal Experiment ended up as a May 1995 mass-market paperback original from HarperPrism, the only American publisher willing to do the book as I had written it. All the other Nebula nominees this year were hardcovers, a fact that gave them greater apparent prestige (I had turned down a hardcover offer from another publisher that had been contingent on my removing the discussion of abortion from my book, something I refused to do). Even worse: HarperPrism had sent out no advance galleys or review copies of The Terminal Experiment, so the book, although it had been getting rave reviews in Canada, had received no reviews at all in the United States, even in the SF press.
Of the six finalists, four were published by Tor Books — and, in an effort to garner Nebula votes, Tor had sent free copies of all four titles to every one of the 900+ active members of SFWA. The other two nominated books — mine, and Walter Jon Williams's Metropolitan — were both published by HarperPrism. HarperPrism cooperated with Walter's agent in sending out copies of his hardcover novel to voters. I, on the other hand, was no longer a HarperPrism author, and they were doing nothing whatsoever to enhance my chances of winning.
In previous years, Analog had sent voters copies of issues containing nominated stories, including serials. This year, though, in a cost-cutting move, Analog's publisher decided not to send out the issues containing serial installments, meaning I was the only nominee to have no publisher-sponsored mailing of his novel. When I discovered this, on January 31, 1996, I told my wife my chances of winning had dropped to zero. This was a view widely shared: according to one person who was sitting at Tor's table during the Nebula banquet, Tor's staff felt sure one of their four titles was bound to be the winner.
Still, in retrospect, perhaps I should have expected to win. Even without publisher support, there had been unprecedented grassroots enthusiasm for The Terminal Experiment. See, getting nominated for a Nebula is a two-stage process. First, you have to get on the Preliminary Ballot by receiving at least ten signed, public recommendations from other writers. Then all the works on the Preliminary Ballot (this year it contained 22 novels) are voted on by the entire SFWA membership, and the top five, plus one additional work chosen by a jury, become the final nominees, which again are voted on by the whole membership.
Well, prior to this year, the all-time record for number of Nebula recommendations was 27 (which, as it happens, was set by my 1994 novel End of an Era). But The Terminal Experiment just kept getting more and more recommendations as 1995 went on. Indeed, it broke SFWA's database when it exceeded forty, the maximum number that could be recorded; the actual tally, I'm told, was considerably higher. My next closest competitor on the Preliminary Ballot this year had nineteen recommendations, less than half what I did.
But having large numbers of recommendations usually doesn't correlate with being the winner, or even getting on the Final Ballot. The work with nineteen recommendations — Catherine Asaro's Primary Inversion — didn't make it to the Final Ballot; in its year, End of an Era didn't make it, either. Indeed, of the other books that did make it to the Final Ballot this year, the number of recommendations only ranged from ten (the minimum required) to fifteen.
The final nominees were announced online in the official SFWA area on GEnie on the morning of February 21, 1996. Final Ballots were mailed out immediately thereafter, and were due back on April 3. Voter turnout was the highest percentage this decade, with 344 out of 930 Final Ballots returned. No one except the award administrators knew in advance who the winners were; Carolyn and I flew out to California (at our own expense), hoping for the best.

And then my name was called. Once Stan Schmidt released my hand, I kissed my wife and made my way up to the podium to accept the award: The Terminal Experiment had just become the thirty-second book ever to win a Nebula Award, and I was the twenty-sixth author in history (and the only native-born Canadian) to take home a Best Novel Nebula. (Orson Scott Card, Arthur C. Clarke, and Samuel R. Delany have each won two Best Novel Nebulas, and Ursula K. Le Guin has won three, which is why there are more award-winning books than there are award-winning authors.)
I began my speech, which was probably too long, by quipping that the only man in the room happier than me was David Hartwell of Tor Books, because we'd just concluded a new two-book hardcover deal three days earlier, back when my price was lower.
I then wanted to acknowledge the other nominees; it had, after all, been a real honour just to be mentioned in the same breath as such fine writers. But on my little crib sheet I'd only written down their first names: Nancy, Gene, Walter, John, and Paul. I filled in the last names as I spoke: "Nancy Kress, Gene Wolfe, Walter Jon Williams —" and then I froze. I looked at the scrawled names "John" and "Paul" and was only able to think of "George" and "Ringo." I recovered after a moment — "John Barnes and Paul Park" — and went on to thank editors Stanley Schmidt at Analog and John Silbersack and Christopher Schelling at HarperPrism, and agent Richard Curtis. I then commented that although the room was filled with authors, agents, and editors, the hardest job in all of publishing is being the spouse of a writer (an observation that got a big round of applause), and so I closed by thanking my wife, Carolyn Clink.
The Nebula trophy itself is surprisingly heavy block of Lucite nine inches tall, four inches wide, and four inches deep (like Arthur C. Clarke's monolith, the ratio of its width to its height is two-squared to three-squared). Embedded in the Lucite is a swirling galaxy of glitter and two polished spherical stones. One of the stones — a large banded agate — looks like a Jovian planet, and the other, smaller stone, orbits it like a too-close moon, reminiscent of the setting of my novel Far-Seer. William Rotsler, the artist who hand-crafts the Nebula trophies each year is famous for making them appropriate for the recipients (last year's best-novel trophy, which went to Greg Bear for Moving Mars, contained a polished sphere of red sandstone). The base of the trophy is black, and says in gold letters:
The Science-fiction & Fantasy Writers
of America
Best Novel 1995
Hobson's Choice
The Terminal Experiment
Robert J. Sawyer
Hobson's Choice is the title under which Analog serialized the novel; that this alternative (and, I think, much better) title was included pleased both Stanley Schmidt and me greatly. Nowhere on the trophy does it actually say "Nebula Award" — a fact that prompted writer David Nickle to quip "What are you trying to pull, Rob?" when he first saw it.
Although the award carries no cash prize, it's already landed me lucrative foreign sales in Germany, Poland, and Japan (as one small example of the value of a Nebula, The Terminal Experiment sold to Japan for an advance US$12,000 greater than what my last book got in that country). And the win will doubtless substantially increase my advance on the next book I sell in the States. More than that, though, it means, as one of my editors observed, that The Terminal Experiment, a book I care about very much, will now likely be in print forever. Winning the Nebula is the biggest thing that's ever happened to me professionally, and I'm grateful beyond words to all the writers who rallied around my book.
---
More Good Reading
Nebula Award Press Release
Chronological list of Best Novel Nebula Winners
Alphabetical list of all authors who have won best-novel Nebulas
Alphabetical list of all novels that have won best-novel Nebulas
Reflections on winning the Nebula 15 years later

Excerpt from The Terminal Experiment

---
---
Copyright © 1995-2020 by Robert J. Sawyer.