---
SFWRITER.COM > Novels > Mindscan

---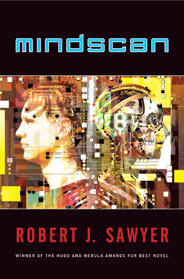 MINDSCAN
A novel by Robert J. Sawyer
Tor Books Lead Science-Fiction Hardcover, April 2005
ISBN 0-765-31107-0
Tor Books Lead Science-Fiction Paperback, January 2006
ISBN 0-765-34975-2
---
Winner of the John W. Campbell Memorial Award!
A selection of Doubleday's Science Fiction Book Club
"An exciting crowd pleaser. Richly informed by current interdisciplinary research in the burgeoning field of consciousness studies, and alive with provocative speculation of its own, Mindscan is a heady brew of hard SF, blended with enough comedy, romance, and adventure to appeal to a wider audience, as well." —SFRA Review
---
Buy the Mindscan PAPERBACK from your Favorite Local Bookseller, or

Or buy an Autographed Copy directly from Rob!
---
No Bookseller Left Behind! If your store routinely stocks new copies of Mindscan, and offers a mail-order service, send an email to Rob with the URL of your catalog page for Mindscan, and he'll add a link to it right here.

And if you'd like a supply of free autographed Mindscan bookplates for your customers, just let Rob know how many you need and where to send them.
---
More Good Reading
Other novels by Robert J. Sawyer
John W. Campbell Memorial Award press release

---
---
Copyright © 1995-2020 by Robert J. Sawyer.