---
SFWRITER.COM > About Rob > Press Releases > SFC Reader Award Win (1998)

---
Press Release
For Release Wednesday, December 22, 1998
Sawyer Wins Top Award From SF Trade Journal
Robert J. Sawyer's short story "The Hand You're Dealt" has won the 17th-annual Science Fiction Chronicle Reader Award for best short story of the year. The winner was chosen by a vote of the readers of Science Fiction Chronicle: The Science Fiction & Fantasy Newsmagazine, published in New York.
Previous best short story winners include such SF classics as "The Pusher" by John Varley, "Kirinyaga" by Mike Resnick, and "Bears Discover Fire" by Terry Bisson.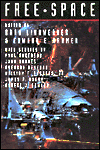 This was hardly the first honor for "The Hand You're Dealt." The story was also a finalist for the Hugo Award, Arthur Ellis Award, and the Aurora Award, and is currently on the preliminary Nebula Award ballot.
"The Hand You're Dealt" was commissioned for and first published in the anthology Free Space, edited by Brad Linaweaver and Edward E. Kramer, and published by Tor. It is reprinted in Crossing the Line: Canadian Mysteries with a Fantastic Twist, edited by Robert J. Sawyer and David Skene-Melvin (Pottersfield Press).
The story is about a detective investigating a murder aboard a space habitat. An essay, "The Science in `The Hand You're Dealt'", is available here.
---
More Good Reading
Press Backgrounder: Robert J. Sawyer
Press Backgrounder: SF Awards
Press Release index
Rob's Newsletter

---
---
Copyright © 1995-2020 by Robert J. Sawyer.