John W. Campbell Memorial Award Finalist!
Aurora Award Finalist!
Seiun Award Finalist!
Spectrum Award Finalist!
Three Months on the Locus Hardcover Bestsellers List!
Year's Best List: San Francisco Chronicle
Year's Best List: Borders Books
Tor Books Lead Science-Fiction Paperback, February 2003
ISBN 0-765-34500-5
Tor Books Lead Science-Fiction Hardcover, May 2002
ISBN 0-312-87692-0


Unabridged audiobook of Hominids from Audible.com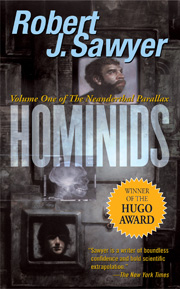 Discover What It Means To Be Human
A bridge opens to a parallel Earth where Neanderthals survived to the present day and we did not.
---
Buy the Hominids PAPERBACK from your Favorite Local Bookseller, or

Or buy an Autographed Copy directly from Rob!

---
No Bookseller Left Behind! If your store routinely stocks new copies of Hominids, and offers a mail-order service, send an email to Rob with the URL of your catalog page for Hominids, and he'll add a link to it right here.

And if you'd like a supply of free autographed Hominids bookplates for your customers, just let Rob know how many you need and where to send them.
---
More Good Reading
Other novels by Robert J. Sawyer

---