---
SFWRITER.COM > Novels > Hybrids

---
HYBRIDS
A novel by Robert J. Sawyer
Tor Books Lead Science-Fiction Hardcover, September 2003
ISBN 0-312-87690-4

Tor Books Lead Science-Fiction Paperback, November 2004
ISBN 978-0-765-34906-4

Tor Books Reprint Trade Paperback, September 2010
ISBN 978-0-765-32634-8

Spectrum Award Finalist!

Locus Bestseller!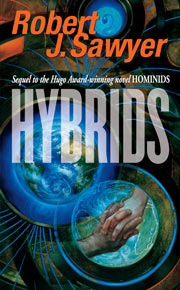 The conclusion to the trilogy that began with HOMINIDS and HUMANS
Visit a parallel world where Neanderthals survived to the present day.
The complete Go to Mars speech
Rob's CBC column on The God Organ

Attention students: Hybrids is discussed in The Gospel According to Science Fiction by Gabriel McKee (Westminster John Knox Press, 2007). And see also this in-depth discussion of the whole Neanderthal Parallax trilogy: "Double Vision: Robert Sawyer's Utopian Dystopia" by Richard Parent in The New York Review of Science Fiction, June 2004, pages 19-22.
---
Buy the Hybrids TRADE PAPERBACK from your Favorite Local Bookseller, or

Or buy an Autographed Copy directly from Rob!

---
No Bookseller Left Behind! If your store routinely stocks new copies of Hybrids, and offers a mail-order service, send an email to Rob with the URL of your catalog page for Hybrids, and he'll add a link to it right here.

And if you'd like a supply of free autographed Hybrids bookplates for your customers, just let Rob know how many you need and where to send them.
---
More Good Reading
Other novels by Robert J. Sawyer

---
---
Copyright © 1995-2020 by Robert J. Sawyer.