---
SFWRITER.COM > Novels > Frameshift > Press Release

---
Press Release
For Release Tuesday, May 27, 1997
Medical Thriller by Nebula Award-Winning Canadian Author Explores Ethical Issues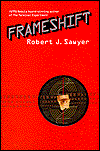 FRAMESHIFT, the eighth novel by acclaimed Thornhill, Ontario, writer Robert J. Sawyer, is a June 1997 hardcover release from Tor Books, New York. Sawyer is Canada's only native-born full-time science-fiction writer. His The Terminal Experiment won the Science Fiction and Fantasy Writers of America's Nebula Award for Best Novel of 1995, and his Starplex is a current finalist for the Hugo Award.
Frameshift is a science-fiction medical thriller in the tradition of Michael Crichton and Robin Cook. Its storyline is torn from today's headlines: the revolution in genetics, the state of health insurance, the hunt for surviving Nazi war criminals, and the possibilities for human cloning.
The novel deals with Pierre Tardivel, a young French- Canadian geneticist working on the Human Genome Project — the international effort to map every bit of DNA that makes up a human being. Pierre is racing against the clock — he himself has the gene for Huntington's disease, which will rob him of his mobility and mental faculties by the time he reaches middle age.
Library Journal calls Frameshift "a gripping medical SF thriller. Highly recommended."
The New York Times says, "Robert J. Sawyer is a writer of boundless confidence. His latest book is filled to bursting with ideas, characters, incident, and page after page of bold scientific extrapolation. Frameshift seems designed for the big screen."
And The Toronto Star declares, "Sawyer pushes the envelope, delivering the real thing with subtlety and great skill."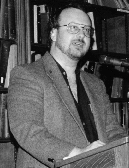 Tor Books — a division of St. Martin's Press — is the world's leading publisher of hardcover science fiction. Tor titles are distributed in Canada by H. B. Fenn and Company, Ltd., of Bolton, Ontario. A gala launch party for Frameshift was held at the University of Toronto's Hart House [at left, that's Sawyer reading at the launch]. Fenn is touring Sawyer throughout Canada.
In addition to his Nebula win, Sawyer has won three Aurora Awards (Canada's top honour in SF writing), an Arthur Ellis Award from the Crime Writers of Canada, and Le Grand Prix de l'Imaginaire, France's top SF award. His next novel, Illegal Alien, will be a December 1997 hardcover release.
---
More Good Reading
More About Frameshift
Press Release index
Top Ten Things to Know About Robert J. Sawyer
Rob's Newsletter

---
---
Copyright © 1995-2020 by Robert J. Sawyer.