---
SFWRITER.COM > Anthologies > Tesseracts 6 Press Release

---
Press Release
For Release Thursday, January 29, 1998
Tesseracts 6
New Canadian SF Anthology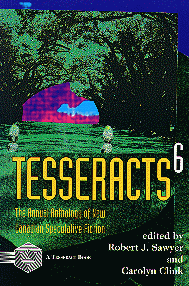 Tesseracts 6, the latest volume in the acclaimed series of anthologies of Canadian science fiction and fantasy, was launched jointly Thursday, January 29, 1998, at Bakka, the science-fiction specialty store in Toronto, and Friday, January 30, at Nebula, the science-fiction specialty store in Montreal.
This edition is the first on the anthology series's new annual publication schedule. It's also the first volume in the series to contain nothing but new material (no reprints). Tesseracts 6 contains 19 short stories and 11 poems by authors from all across Canada.
The editors of Tesseracts 6 are the husband-and-wife team of Robert J. Sawyer and Carolyn Clink, who live in Thornhill, Ontario. Sawyer is Canada's only native-born full-time science-fiction writer. He won the Science Fiction and Fantasy Writers of America's Nebula Award for Best Novel of the Year for his The Terminal Experiment; his latest novel is Illegal Alien, just out in hardcover from Ace Books, New York. Clink is an award-winning poet.
Their anthology features work by some of Canada's biggest names in SF, including Philip K. Dick Award winner Robert Charles Wilson, accomplished short story writer Andrew Weiner, Aurora Award and Writers of the Future Grand Prize winner James Alan Gardner, well-known poet Edward Baranosky, and Élisabeth Vonarburg, Quebec's leading SF writer.
Also included are several brilliant first sales by new writers, including Katie Harse of Calgary and Douglas Smith of Markham, Ontario.
The anthology is rounded out with an introductory essay by Sawyer on the state of Canadian SF.
The Tesseracts anthology series began 1985 with the original volume edited by legendary science-fiction editor Judith Merril. That volume was a great critical success, but Merril said that no one editor should be defining the state of Canadian SF; she insisted on a rotating editorship for future volumes. Tesseracts 2 appeared in 1987; it was edited by SF novelist Phyllis Gotlieb and publisher Gerry Truscott. Tesseracts 3 came out in 1990; it was edited by Candas Jane Dorsey (now the publisher of Tesseract Books) and critic Douglas Barbour. Tesseracts 4 appeared in 1992; its editors were Lorna Toolis, head librarian at the Toronto Public Library's Merril Collection of Science Fiction, Speculation and Fantasy, and her husband, Aurora Award-winning author Michael Skeet. Tesseracts 5 (1996) was edited by Dr. Robert Runté, an SF fan, and Yves Meynard, a major Quebecois SF writer.
Tesseracts 6 is published by Tesseract Books, an imprint of The Books Collective, based in Edmonton, Alberta. The book has been released simultaneously in quality trade paperback (ISBN 1-895836-32-8, Cdn$8.95) and limited-edition collectors' hardcover (ISBN 1-895836-33-6, Cdn$21.95).
Tesseract Books
The Books Collective
214 - 21 10405 Jasper Ave.
Edmonton, Alberta, Canada T5J 3S2
(403) 448-0590

---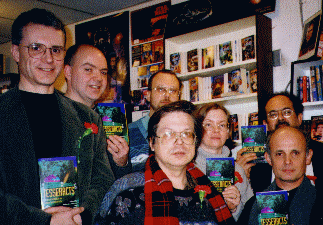 A snow storm forced several people to miss the Toronto launch of Tesseracts 6. Here are the contributors who made it out to Bakka on January 29, 1998. From left to right: Douglas Smith, Scott Mackay, Edward Baranosky, Robert J. Sawyer (back), Carolyn Clink, Peter Bloch-Hansen, and Andrew Weiner (back).
Many thanks to John Rose at Bakka for providing the venue, staff, coffee, and cookies.
Photo by Edo van Belkom
---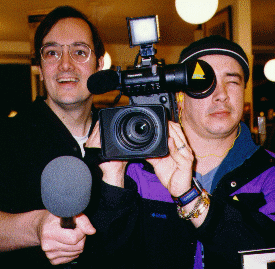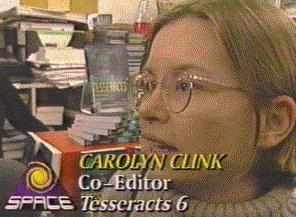 The event was covered by Space: The Imagination Station, Canada's national science-fiction specialty channel, and featured on the February 3, 1998, segment of SPIN ("Space Information and News"). Pictured is interviewer Mark Askwith and videographer Don Wright.
Photo by Carolyn Clink
---
More Good Reading
Introduction to Tesseracts 6
Afterword to Tesseracts 6
About the Contributors to Tesseracts 6
Cover art

Press Release index
Rob's Newsletter

---
---
Copyright © 1995-2020 by Robert J. Sawyer.