---
SFWRITER.COM > About Rob > Press Releases > Premio UPC Win (1998)

---
Press Release
For Release Wednesday, December 2, 1998
Sawyer wins World's Largest Cash Prize for Science Fiction — for Second Consecutive Year

BARCELONA, SPAIN: Robert J. Sawyer of Thornhill, Ontario, today won the world's largest annual cash prize for Science Fiction writing.
Sawyer, 38, won the Universitat Politècnica de Catalunya's 1998 Premio UPC de Ciencia Ficción, which carries a cash prize of one million pesetas (approximately Cdn$11,000 or US$7,000). By comparison, the largest North American cash prize available to published SF writers is the annual Philip K. Dick Award, which carries a US$1,000 prize; the largest British prize is the annual Arthur C. Clarke award, valued at 1,000 pounds.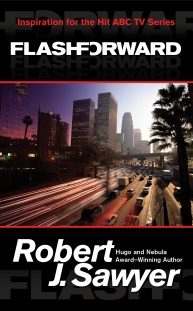 The Premio UPC de Ciencia Ficción is open to works in Spanish, Catalan, French, and English. This year, the competition drew 134 submissions — the largest number in the award's history — from writers in countries including the United States, Canada, Chile, Costa Rica, France, Israel, Japan, Mexico, Romania, and Spain. Renowned British critic Brian Aldiss, author of the definitive history of the SF field Trillion Year Spree, calls the Premio UPC de Ciencia Ficción "the most prestigious science fiction award in all of Europe."
The Premio UPC is given for novella-length works (between 25,000 and 40,000 words). Sawyer's 1998 winner was "Block Universe," a self-contained excerpt from his forthcoming eleventh novel FlashForward, which will be published in hardcover by Tor Books, New York, in June 1999. FlashForward deals with an experiment that goes awry at CERN, the European Centre for Particle Physics, causing the consciousness of everyone on Earth to jump ahead twenty-one years for a period of two minutes.
Astonishingly, this is the second year in a row Sawyer has won the Premio UPC (last year, he tied for first place with Puerto Rican writer James Stevens-Arce). Sawyer's 1997 winner was "Psychospace," a short version of his highly acclaimed novel Factoring Humanity ("An intelligent and absorbing double-stranded narrative that accelerates to hyperspeed in the last few pages" — Kirkus; "I loved it" — Analog). Since the UPC award was established in 1991, no one has ever won the grand prize twice before. Previous English-language winners include Jack McDevitt in 1992 and Mike Resnick in 1994.
Two "special mentions" of 250,000 pesetas each (Cdn$2,600 or US$1,700) were given to runners-up Rodolfo Martínez of Spain (for his story "Este relámpago, esta locura") and Gabriel Trujillo of Mexico (for his story "Gracos"). A third 250,000-peseta special mention, reserved for a member of the UPC community, was shared by Javier Sánchez-Reys and Pedro A. García Bilbao for their collaborative work "Fuego sobre San Juan."
The Universitat Politècnica de Catalunya ("the Polytechnic University of Catalonia," a region of northeast Spain), which sponsors the Premio UPC de Ciencia Ficción, is located in Barcelona. The award jury this year consisted of Lluís Anglada, Miquel Barceló, Josep Casanovas, Jordi José, and Manuel Moreno. Judging was done blindly (no author names on manuscripts, and without the judges knowing the national origins of the writers).
Sawyer is currently on a long-planned writing retreat on one of the Finger Lakes in upstate New York. Renowned British SF author Stephen Baxter, who presented the keynote address "All Aboard for the Eschaton: Science Fiction and the End of the Universe," at today's gala awards ceremony at the UPC accepted Sawyer's prize on his behalf.
Robert J. Sawyer is the president of the Science Fiction and Fantasy Writers of America, and Canada's only native-born full-time science-fiction writer. He has previously won the top SF awards in the United States (the Nebula Award), Canada (the Aurora), Japan (the Seiun), and France (Le Grand Prix de l'Imaginaire) — a feat no one else has ever managed. His tenth novel, Factoring Humanity, was released by Tor Books in hardcover in June 1998; just out in paperback are reissues of his Hugo Award-nominated Frameshift (Tor, November 1998) and his SF courtroom drama Illegal Alien, which The Globe and Mail: Canada's National Newspaper called "the best Canadian mystery of the year" (Ace, January 1999).
---
More Good Reading
Information about Rob's 1997 UPC win
Information about Rob's 2004 UPC win

BEM Website with photos from the 1997 awards ceremony and more information about the award
Rob's essay on winning the Premio UPC de Ciencia Ficción
Press Backgrounder: Robert J. Sawyer
Press Backgrounder: SF Awards
Press Release index
Rob's Newsletter

---
My Very Occasional Newsletter
---
---
Copyright © 1995-2024 by Robert J. Sawyer.