---
SFWRITER.COM > Novels > Starplex > Press Release

---
Press Release
For Release Tuesday, September 10, 1996
New Science Fiction Novel by This Year's Nebula Award Winner
Gala Launch to be Held at Ontario Science Centre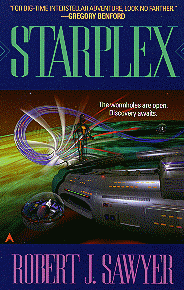 Starplex, the seventh novel by acclaimed Thornhill, Ontario, writer Robert J. Sawyer, will be an "October" release from Ace Science Fiction, New York. It will be in bookstores on September 10, 1996. Sawyer is Canada's only native-born full-time science-fiction writer. Earlier this year, Sawyer's novel The Terminal Experiment won the Science Fiction and Fantasy Writers of America's Nebula Award for Best Novel of 1995.
Sawyer will celebrate Starplex's release with a gala launch at the Ontario Science Centre on Saturday, September 21. In addition, Sawyer will be reading from Starplex at the world-famous Harbourfront International Festival of Authors in Toronto on Tuesday, October 29.
Starplex returns to the classic "hard SF" that made Sawyer's earlier novels Golden Fleece, Far-Seer, and End of an Era such hits. Like Sawyer's The Terminal Experiment, the full text of Starplex was first serialized in Analog, the world's number-one bestselling SF magazine.
Starplex tells the story of the discovery of an ancient and apparently abandoned network of interstellar shortcuts or stargates that gives humanity access to the entire galaxy. During first contact with a newly discovered alien race, the human, dolphin, and extraterrestrial crew of the vast research vessel Starplex is sent on a mind-bending adventure that covers millions of light-years and billions of years. Along the way, Sawyer addresses virtually every question in modern cosmology, including the origin and ultimate fate of the universe.
Jack McDevitt, author of Ancient Shores, says, "Starplex takes us on the ultimate grand tour: an elegant intergalactic ride with Sawyer's signature mix of cosmic concepts and solid characterization. This one is a treat for the mind; I enjoyed it thoroughly." Hugo-winner Gregory Benford, author of Furious Gulf, agrees: "Starplex is complex but swift, inventive but real-feeling, with ideas coming thick and fast. For big-time interstellar adventure, look no farther."
In addition to his Nebula win, Sawyer was also a finalist for the Hugo Award this year. He's won three Aurora Awards — Canada's top honour in SF writing — as well as an Arthur Ellis Award from the Crime Writers of Canada. His next novel, Frameshift, will be a June 1997 hardcover release.
---
More Good Reading
More About Starplex
Press Release index
Top Ten Things to Know About Robert J. Sawyer
Rob's Newsletter

---
---
Copyright © 1995-2016 by Robert J. Sawyer.