---
SFWRITER.COM > About Rob > About the Author

---
About the Author: Robert J. Sawyer
I was born in Canada's capital city of Ottawa on April 29, 1960. I now live in Mississauga, Ontario (just west of Toronto), with my lovely wife Carolyn Clink. Carolyn and I have been married since December 22, 1984. I have won the two top awards in the science-fiction field: the Nebula and the Hugo.
Education
Although I write hard-SF, I confess up front to not being a working scientist or having a science degree. But, hey, I'm not alone in that. Frederik Pohl never finished high school, and, sure, Kim Stanley Robinson is really Doctor Robinson, but his Ph.D. is in (gasp!) English Literature.

Actually, I did want to be a scientist — a dinosaurian paleontologist in particular (which doubtless comes as no surprise to anyone who has read my books . . .), but I also wanted to write science fiction professionally. And at the end of high school, I came to realize a startling fact: there are only three dozen people in the entire world who make their livings studying dinosaurs; by contrast there are several hundred people who actually make their livings writing science fiction. It turned out that, of my two dreams, becoming a science-fiction writer was the more practical one, and so that's the one I decided to pursue.
Even at the outset, I didn't have much faith in creative-writing courses, although Toronto's York University did offer a degree in that field. Instead, I decided to do a Bachelor of Applied Arts degree in Radio and Television Arts at what's now called Ryerson University in Toronto. I specialized in scriptwriting, but also took a lot of psychology electives (which is where the idea for my novel Foreigner doubtless came from). By coincidence, Tanya Huff — who writes great fantasy novels for DAW — and I were in the same class at Ryerson.
Getting Started as a Writer
My first professional sale was in 1979, while still a student at Ryerson. I sold a short science-fiction story called "Motive" to the Strasenburgh Planetarium in Rochester, New York, and they produced it as part of a dramatic starshow trilogy called "Futurescapes" in the summer of 1980.
Although that story was never published, it featured embryonic forms of a lot of things that have shown up in my later fiction, such as combining murder-mystery and science fiction, plus my Quintaglio aliens from Far-Seer, a smart-ass computer who was clearly the forerunner of JASON in Golden Fleece, as well as a starship called Starplex, with humans and dolphins working together on board — a venue that I finally returned to in my novel which is also called Starplex . . .
My first published story was "The Contest" in Ryerson's literary annual, White Wall Review 1980. Interestingly, the editor was Ed Greenwood, who went on to be a major force in TSR's Dungeons and Dragons world. My story was reprinted in the anthology 100 Great Fantasy Short Short Stories, edited by Isaac Asimov, Terry Carr, and Martin Harry Greenberg (Doubleday hardcover 1984, Avon paperback 1985).
My Early Career: Writing Non-Fiction
I've been lucky enough to make my living as a full-time writer since May 1983 (I graduated from Ryerson in 1982, but spent a year on staff instructing students in television studio production techniques, studio lighting, and telecine, while my girlfriend (and later wife) Carolyn finished her Bachelor of Technology degree in Graphic Arts Management there).
For my first six years of full-time writing, most of what I did was non-fiction: during that period I wrote over 200 freelance articles for Canadian and American magazines on topics ranging from computing to personal finance. (The Canadian publications included The Financial Post Magazine, Report on Business Magazine, Broadcaster, and InfoAge, plus The Financial Times of Canada, for which I also edited Feature Supplements; in the States, I wrote for Sky & Telescope, ProFiles: The Magazine for Kaypro Users, and others.)
During that time, I put my broadcast training to good use, editing the license application for one of Canada's first specialty cable-TV channels, Vision TV. And I wrote and narrated a total of five one-hour radio documentaries about science fiction for CBC Radio's Ideas series. The first three were broadcast in 1986 under the umbrella title Other Worlds, Other Minds: A Science Fiction Odyssey, and included interviews with Isaac Asimov, Samuel R. Delaney, Thomas M. Disch, Ursula K. Le Guin, and many more. The other two first aired in 1990 as What If? An Exploration of Alternative Histories, in which I interviewed Gregory Benford, Robert Silverberg, Harry Turtledove, Kim Stanley Robinson, and others.
At the same time, I was also doing a lot of writing for corporations and government offices, including the Ontario Science Centre and Bank of Montreal. And I was writing and selling science-fiction short stories at the blistering rate of about one a year . . .
Becoming a Full-Time Science Fiction Writer
As my 30th birthday was approaching, I realized that if I was serious about becoming an science-fiction writer, I better clear out all the other work — even though it was paying handsomely — and concentrate on doing a novel . . . and I've never looked back. Since 1989, I've made virtually all of my living as a science-fiction writer.
Writing About Science Fiction
I wrote the entry on "Science Fiction" for The Canadian Encyclopedia's second print edition. I did a completely new version for the first CD-ROM edition, released in 1995, and another complete for the 1999 CD-ROM edition. I also wrote the entry on "Canada" for Prentice-Hall's Encyclopedia Galactica.
My articles about science fiction have appeared Books in Canada, Now, The New York Review of Science Fiction, Science Fiction Review, The Globe and Mail, The Toronto Star, Maclean's, and the anthology Nebula Awards 29. I also did a column about SF called "Random Musings" that ran in the Ottawa Science Fiction Society Statement.
Public Readings and Lectures
I've given over two hundred public readings, at venues including Toronto's Harbourfront International Festival of Authors; the Winnipeg Writers Festival; the Sunshine Coast Festival of the Written Arts; the National Library of Canada; the University of Toronto's Hart House; the Idler Pub; the Merril Collection of Science Fiction, Speculation, and Fantasy; and the Rivoli Café. (My broadcasting training comes in handy here: I'm told I'm a very dynamic reader . . .)
I've given public lectures at the McLaughlin Planetarium and the Ontario Science Centre, been a speaker at annual meetings of the Ontario Library Association, the Science Teachers' Association of Ontario, the Canadian Authors Association, the Life (Insurance) Communicators Association, and the Canadian Booksellers Association; presented nine professional-development seminars about science fiction for librarians through the Southern Ontario Library Service, and been Guest of Honor at science-fiction conventions from coast to coast in North America and in Japan.
For more information about my availability to talk to your group, email me at rob@sfwriter.com.
Teaching Writing
I've taught science-fiction writing at Ryerson University, the University of Toronto, the National University of Ireland, Humber College, and the Banff Centre for the Arts. My courses have attracted students to Toronto from as far away as Atlanta, Georgia, and I've run writing workshops as far away as Calgary, Alberta. My "On Writing" column appeared for three years in On Spec, Canada's principal science-fiction magazine (and is being reprinted in Australia's Altair magazine).
I've been Writer in Residence for the Toronto Public Library's Merril Collection of Science Fiction, Speculation and Fantasy and the Richmond Hill (Ontario) Public Libraries, a "Writer in Electronic Residence" for Canada's national high-school workshop Wired Writers — through which students upload manuscripts to the Internet for critiquing by professional writers. In June 1998, I was both Writer in Electronic Residence for the online version of Maclean's, Canada's national newsmagazine, and USA Today Online's "Writer of the Month." And I've been Guest Critic four times in the CompuServe Online SF&F Writers' Workshop.
To my delight, my novels are taught at York University, the University of Toronto, the University of Waterloo, the University of Western Ontario, the University of Calgary, Dalhousie University, Alfred University, and elsewhere, and for several years my novel Far-Seer was taught to grade 7 and 8 students at the Heritage Park School in Scarborough, Ontario.
Judging
In 1994, I served as a juror for the Philip K. Dick Award. I've also been a judge for the Ontario Science Centre's "Invent an Alien" contest, sole judge for The Winnipeg Free Press's "Future Winnipeg" essay contest, and sole judge for an SF-writing contest sponsored by Prairie Fire magazine. For two years, my wife Carolyn and I were the editors for the Vaughan Public Library's annual Early Harvest anthology of writing by teenagers.

I've also co-edited three anthologies: Tesseracts 6 (with Carolyn Clink), Crossing the Line (with David Skene-Melvin), and Over the Edge: The Crime Writers of Canada Anthology (with Peter Sellers).
Media Coverage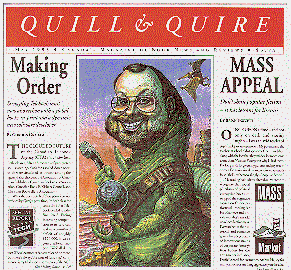 Thanks to my broadcasting training, I'm completely comfortable on camera — which probably explains why I ended up being a guest 16 times on TVOntario's series about science fiction, Prisoners of Gravity — that's more appearances than any other person in that program's history. In total, I've made more than 150 television appearances, including twice on The Sci-Fi Channel's Sci-Fi Buzz, and more than two dozen appearances on Discovery Channel Canada.
I've also been interviewed many times on radio (including on National Public Radio's Talk of the Nation, repeatedly on CBC Stereo's The Arts Tonight, twice on CBC's Morningside, for a full-hour on CFRB Toronto's The Andy Barrie Show, and for as much as three hours straight on various other shows all over the United States and Canada.
For more information about my work, you can check out the published profiles of me. And if you live in Canada, go to your library and have a peek at the May 1993 edition of Quill & Quire, which is the Canadian counterpart of Publishers Weekly. The cover illustration is a lovely full-color caricature of me as Toroca from Fossil Hunter — it's a hoot.
The main Toronto Reference Library at Yonge and Bloor maintains a clipping file on me; ask for "Canadian Author Files" at the Reference Desk.
---
Year-in-Review Reports
Comprehensive year-in-review reports for 1995, 1996, 1997, 1998, 1999, 2000, and 2001 are available here.
---
More Good Reading
Profiles of and interviews with Robert J. Sawyer
Entry on Rob in Canadian Who's Who
Robert J. Sawyer's awards and honors
Press comments about Rob

Robert J. Sawyer Novels in the Classroom
Rob's standard press backgrounder
Rob's author photo
Two color photos of Rob accepting Aurora Awards

Review index
A list of Rob's books currently in print

---
---
Copyright © 1995-2020 by Robert J. Sawyer.