---
SFWRITER.COM > About Rob > 1996 Year in Review

---
Robert J. Sawyer's 1996 Year in Review
Publications
Novels
In 1996 Robert J. Sawyer's novel Starplex (Ace, October 1996), was published following serialization in Analog's July through October issues. Starplex was also a selection of the Science Fiction Book Club.
A launch party for Starplex with over 100 people in attendance was held on September 21, 1996, at the Ontario Science Centre, organized by the Canadian Science Fiction and Fantasy Foundation. Starplex debuted at number five on the Locus Bestsellers List.
Translations of Rob's work that appeared in 1996 included the Italian edition of The Terminal Experiment (as Killer On-Line), and the Japanese edition of End of an Era (as Sayonara Dainosaurusu). In addition, foreign rights to The Terminal Experiment sold in 1996 to publishers in France, Germany, Holland, Japan, Poland, and Spain.
Rob changed agents in February 1996. After seven years with Richard Curtis Associates, he moved to Ralph M. Vicinanza Ltd.
In April, in an auction conducted by Vicinanza, Tor Books of New York bought hardcover/softcover rights to Rob's eighth novel, Frameshift, from a completed manuscript, and contracted for another unwritten novel. Frameshift will be a June 1997 release. In May 1996, Rob turned in his ninth novel, Illegal Alien, to Susan Allison at Ace. It will be a December 1997 hardcover. In September 1996, HarperCollins UK bought British rights to both Frameshift and Illegal Alien.
Short Fiction
New short story "Above It All" appeared in Dante's Disciples (Peter Crowther and Edward E. Kramer, eds., White Wolf, February 1996) while "Peking Man," was the lead story in Dark Destiny III: Children of Dracula (Edward E. Kramer, ed., White Wolf, October 1996).
Reprint short story "Just Like Old Times" appeared in Dinosaurs (Martin H. Greenberg, ed., Donald I. Fine, February 1996) and "Lost in the Mail" was in Bloody York: Tales of Mayhem, Murder and Mystery in Toronto (David Skene-Melvin, ed., Simon & Pierre, October 1996).
Rob's story "You See But You Do Not Observe" was translated and printed in the French magazine Yellow Submarine and in the Japanese magazine Hayakawa SF.
Anthology
During the fall, Rob and his wife Carolyn Clink edited the Canadian Science Fiction and Fantasy anthology Tesseracts 6; the book will be published in late 1997.
Awards
Award Wins
Rob won five awards in 1996: first and foremost was the Science Fiction and Fantasy Writers of America's Nebula Award for Best Novel of 1995, for The Terminal Experiment. The Terminal Experiment also won the Aurora Award for Best Long-Form Work in English and the Sixth Annual HOMer Award, voted on by the 30,000 members of the Science Fiction and Fantasy Literature Forum on CompuServe, for Best Novel of the Year. Rob's "You See But You Do Not Observe" won the HOMer Award for Best Short Story of the Year, as well as France's top science-fiction award, Le Grand Prix de l'Imaginaire, for Best Foreign Short Story of the Year. ("You See But You Do Not Observe" also was an official Hugo Award honorable mention, coming in seventh place in total number of nominations.) And Rob received the 250,000 peseta "Special Mention" in the Universitat Politecnica de Catalunya's Science Fiction Award for Best unpublished novella in English, French, Spanish, or Catalan, for an excerpt from his forthcoming novel Frameshift.
Award Nominations
Rob was nominated for two other awards in 1996: the Hugo Award for The Terminal Experiment, and the Aurora Award for his "Lost in the Mail."
Other
The option on motion-picture rights for The Terminal Experiment was renewed for a second year by London's Metrodome Productions, and Toronto's Michael Lennick has optioned Rob's forthcoming novel Illegal Alien.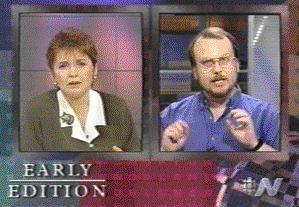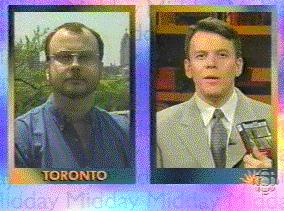 Rob made 27 television appearances in 1996, including: CTV's Canada AM, W5, Entertainment Now, and 2000+; CBC's Midday and The CBC Evening News; two times on The Sci-Fi Channel's Sci-Fi Buzz; two times on Newsworld's Early Edition with Anne Petrie; and nine times on The Discovery Channel's @discovery.com. He also did numerous radio interviews in 1996, including twice on CBC's Morningside, and once on Blue Danube, the English-language service of the Austrian Broadcasting Corporation.

Newspaper profiles of Rob included The Ottawa Citizen (26 May 1996), The Toronto Star (13 August 1996), The West Australian (21 August 1996), The Halifax Chronicle-Herald (20 September 1996), The Globe and Mail (23 October 1996), and The Financial Post (23 November 1996).

Rob gave 17 public readings in 1996, including ones at the National Library of Canada and the Harbourfront International Festival of Authors.

During the 1996-97 academic year, Rob's The Terminal Experiment is being taught at several universities, including the University of Toronto, York University, and the University of Waterloo; Rob's Far-Seer is also taught at York. Rob participated in academic conferences on popular culture at York University and the University of Toronto (the latter was actually held at the Royal Ontario Museum), and Rob gave a public lecture at U of T's New College entitled "Science Fiction as the Conscience of the Technological Age."

Rob was Guest of Honor or Special Guest at the following 1996 science-fiction conventions: Astronomicon 5 (Rochester, New York); Can-Con '96 (Ottawa, Ontario); Conversion XIII (Calgary, Alberta); Falcon 2 (Halifax, Nova Scotia), and Primedia '96 (Mississauga, Ontario). While in Calgary, he ran an intensive two-day writing workshop for the Imaginative Fiction Writers' Association.
---
More Good Reading
Rob's 2014 Year in Review
Rob's 2013 Year in Review
Rob's 2007 Year in Review
Rob's 2001 Year in Review
Rob's 2000 Year in Review
Rob's 1999 Year in Review
Rob's 1998 Year in Review
Rob's 1997 Year in Review
Rob's 1996 Year in Review
Rob's 1995 Year in Review

Decade in Review: January 1999 to December 2008

---
---
Copyright © 1995-2020 by Robert J. Sawyer.