---
SFWRITER.COM > About Rob > 1997 Year in Review

---
Robert J. Sawyer's 1997 Year in Review
Nineteen Ninety-Seven was Rob's best year yet professionally. Here's what happened:
Publications
Novels
Rob's first-ever bookstore hardcover, Frameshift, was published in July by Tor. It was followed-up just five months later by his second bookstore hardcover, Illegal Alien, which was published in December by Ace. Both books were also selections of the Science Fiction Book Club. A gala launch party for Frameshift was held at the University of Toronto's Hart House (covered for TV by the Canadian cable-arts channel Bravo!); a launch for Illegal Alien was held at Bakka, the world's oldest science-fiction specialty store (covered for TV by the CBC Evening news and Space: The Imagination Station).
Frameshift went into a second printing even before it had officially been published; Illegal Alien was into a second printing by the end of the year, just weeks after its initial release. (And, incidentally, Rob's 1995 novel The Terminal Experiment went into a fourth printing in November 1997.)
Limited Editions
The first ever limited-edition collectible hardcover versions of books by Rob were produced in 1997.
SoulWave Publishers, a new company in Tennessee, which licensed its name (a term from The Terminal Experiment) from Rob, produced its first book in October: a 200-copy signed, limited-edition hardcover of Rob's Nebula Award-winning The Terminal Experiment.

The Easton Press produced 900 signed, numbered leather-bound first-edition limited-edition hardcovers of Illegal Alien in November.
Anthology
Tesseracts 6, the anthology of all-new Canadian science fiction and fantasy edited by Rob and his wife Carolyn Clink, was published in trade paperback and hardcover by Tesseract Books of Edmonton in December.
Short Fiction
Rob had three new short stories published in 1997:
"Forever" in Return of the Dinosaurs, edited by Mike Resnick and Martin Harry Greenberg, DAW, New York, May 1997.

"The Hand You're Dealt" in Free Space, edited by Edward E. Kramer and Brad Linaweaver, Tor, New York, July 1997.

"Gator," the lead story in Urban Nightmares, edited by Josepha Sherman and Keith R.A. Decandido, Baen, New York, November 1997.
New Books Sold
Rob signed a new two-book hardcover/softcover contract with Tor contracted with Tor in 1997; these will be Rob's eleventh and twelfth novels. Working titles are Mosaic and Where There's A Will. Advances were more than double what Rob received on his previous Tor contract.
Awards
Award Wins
Rob won six awards in 1997:
Award Nominations
Rob was nominated for the science-fiction field's two biggest awards in 1997:
The Science Fiction and Fantasy Writers of America's Nebula Award — the "Academy Award" of science fiction — for Best Novel of 1996 (for Starplex).

The Hugo Award — science fiction's international "people's choice" award — for Best Novel of 1996 (for Starplex).
Starplex was the only novel to be nominated for both the Hugo and the Nebula Award this year; Rob was the only author to be nominated for the best-novel Hugo both this year and last year, and he was also the only author to be nominated for both the best-novel Nebula this year and last year.
Other
Rob's wife, Carolyn Clink, quit her job in the printing industry in June come to work full-time for Rob as his salaried assistant.
Rob did his first extensive book tour in 1997, traveling in Canada from Vancouver to Montreal, promoting Frameshift.
Rob did 29 public readings in 1997 — the most he's ever done in a single year to date. He was a reader at the opening night of the Winnipeg Writers Festival.
Rob also gave several talks in 1997, including the keynote address at the 76th annual conference of the Canadian Authors Association.
Rob was Guest of Honor at the following science-fiction conventions in 1997:
ConFurence 8, Anaheim, California, January 16-19
Capricorn 17, Chicago, Illinois, February 20-23
Can-Con '97, Ottawa, Ontario, May 2-4
ConVersion XIV, Calgary, Alberta, July 18-20
ValleyCon 22, Fargo, North Dakota, October 10-12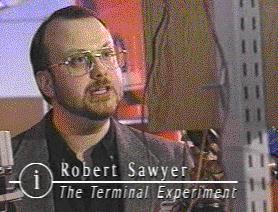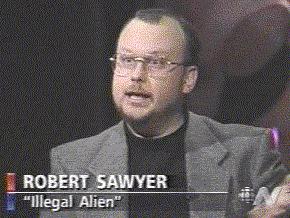 Rob made 28 television appearances in 1997, including a feature profile of him on TVOntario's Imprint (February 25), two appearances on CBC Newsworld's Benmergui Live (February 24 and October 17), and Newsworld's Pamela Wallin Live (March 24). Rob was the very first person to appear on Canada's new science-fiction specialty channel, Space: The Imagination Station (October 17). Rob became a regular commentator on the Canadian prime-time science-news TV series @discovery.ca; his first four segments aired late in 1997.

Rob taught two eight-week courses in science-fiction writing at Toronto's Ryerson Polytechnic University. And four installments of his "On Writing" column appeared in On Spec magazine in 1997. But Rob gave up both the teaching and the column this year, in order to make more time for his fiction writing.
---
More Good Reading
Rob's 2014 Year in Review
Rob's 2013 Year in Review
Rob's 2007 Year in Review
Rob's 2001 Year in Review
Rob's 2000 Year in Review
Rob's 1999 Year in Review
Rob's 1998 Year in Review
Rob's 1997 Year in Review
Rob's 1996 Year in Review
Rob's 1995 Year in Review

Decade in Review: January 1999 to December 2008

---
---
Copyright © 1995-2020 by Robert J. Sawyer.