---
SFWRITER.COM > About Rob > Press Releases > Hugo Nomination (1997)

---
Press Release
For Release Monday, April 21, 1997
Canada's Robert J. Sawyer Nominated for Science Fiction's Hugo Award for Second Year in a Row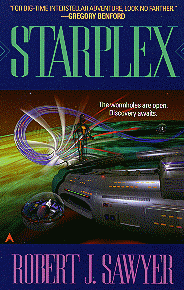 The ballot for the 1997 Hugo Award — the international readers' choice award of the science-fiction field — was unveiled today in San Antonio, Texas.
For the second year in a row, a book by Robert J. Sawyer of Thornhill, Ontario, is one of five finalists in the category of Best Novel of the Year.
Sawyer's nominated novel, Starplex, was published by Ace Science Fiction in October 1996. Ace is an imprint of Berkley Putnam, New York; Ace Books are distributed in Canada by BeJo Sales of Mississauga, Ontario.
The other Hugo nominees (all by Americans) are Memory by Lois McMaster Bujold (published by Baen); Remnant by Elizabeth Moon (Baen); Blue Mars by Kim Stanley Robinson (Bantam), and Holy Fire by Bruce Sterling (Bantam).
The Hugo Awards honor science fiction first published anywhere in the world in English in the preceding year. Nominations are made by the members of the current year's and previous year's World Science Fiction Convention (or "Worldcon"). The final ballot will be voted on by the 5,000 members of this year's Worldcon, which will be held over Labor Day weekend in San Antonio. The winners will be announced August 31, 1997.
The Worldcon has been in Canada three times: in Toronto in 1947 and 1973, and in Winnipeg in 1994. Other recent and upcoming Worldcon sites include Glasgow (1995), Los Angeles (1996), Baltimore (1998), and Melbourne (1999).
The Hugo Awards are named after Hugo Gernsback, an immigrant to the United States from Luxembourg, who founded the first science-fiction magazine, Amazing Stories, in 1926; Amazing Stories was published until 1995.
Previous Hugo Award winners include such SF classics as Frank Herbert's Dune, Isaac Asimov's The Gods Themselves, and Arthur C. Clarke's Rendezvous with Rama. The only Canadian winner to date of a Best Novel Hugo is Vancouver's William Gibson, who won the 1985 award for his Neuromancer.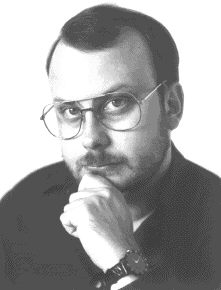 Sawyer, 36, was also nominated for a Hugo Award last year for his novel The Terminal Experiment (HarperPrism USA, May 1995, distributed in Canada by HarperCollins Canada Ltd.). Although The Terminal Experiment didn't win the Hugo, it did take home the Nebula Award — the "Academy Award" of science fiction, voted on by the 1,100 members of the Science Fiction and Fantasy Writers of America.
Sawyer's current Hugo nominee, Starplex, was also one of six nominees for the Nebula Award this year (the winner was Slow River by Nicola Griffith, published by Del Rey). Sawyer was the only novelist to be nominated for both the Hugo and Nebula this year, and the only novelist to be nominated for the Hugo both last year and this year.
Starplex tells the story of the discovery of an ancient and apparently abandoned network of interstellar shortcuts that gives humanity access to the entire galaxy. During first contact with a newly discovered alien race, the crew of a research vessel is sent on a mind-bending adventure that covers millions of light-years and billions of years.
Library Journal calls Starplex, "An epic hard-science adventure tempered by human concerns. Highly recommended."
The syndicated review column "About Books" declares, "Sawyer has become Canada's best speculative-fiction writer, by far. Starplex is very, very cool. This is a book not to be missed."
The Toronto Star raves, "It's hard to think of a modern SF writer with dreams as vast as those of Toronto's internationally acclaimed Robert J. Sawyer. Here, at last, is an ambitious attempt to exploit the possibilities the science-fiction genre is capable of."
Toronto Life says, "The intercultural tensions in Starplex may be a sly allegory for English-French relations in Canada. Sawyer is right to demand serious attention to his work."
And The Halifax Mail-Star calls Starplex, "A rumination on several very deep questions, including: Where did we come from? Where are we going? And the deepest of the deep, Is there a God? Sawyer's novel proves that science fiction is now literature."
Sawyer is Canada's only native-born full-time science- fiction writer. In addition to last year's Nebula win, he has also won three Canadian Science Fiction and Fantasy Awards ("Auroras"), an Arthur Ellis Award from the Crime Writers of Canada, and Le Grand Prix de l'Imaginaire, France's top honor in SF.
His previous novels from Ace Science Fiction are Far-Seer, Fossil Hunter, Foreigner, and End of an Era. His next novel, Frameshift, will be a June 1997 hardcover release; Sawyer will be touring in Canada next month to promote that book.
---
More Good Reading