---
SFWRITER.COM > About Rob > Profile by Michael A. Burstein

---
Robert J. Sawyer, Mensch
by Michael A. Burstein
Copyright © 1998 by Michael A. Burstein
All Rights Reserved.
---
From the Program Book for Bubonicon 30, a science-fiction convention at which Robert J. Sawyer was Guest of Honor, held August 28-30, 1998, in Albuquerque, New Mexico.
---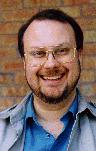 I first heard of Robert J. Sawyer in 1991. I was spending the summer teaching in upstate New York, and I was desperate for some good science fiction to read. The owner of a local science fiction specialty store, after hearing that I liked the works of Isaac Asimov, pushed a copy of Golden Fleece at me. I had never heard of the author before, but the blurb looked interested, so I bought the book and took it with me.
I devoured it that night. Generation ships, artificial intelligences, alien messages — this book was filled with all the trappings of wonder that are the hallmark of great science fiction. I resolved to read every other book this author wrote, and was crushingly disappointed when I discovered this was his first novel. I was just going to have to wait.
Next summer, I returned to that bookstore, and the owner remembered me. She pointed out the new novel by Rob Sawyer. I took one look at it and froze.
There was a dinosaur on the cover.
Not only that, but it was the first book of a trilogy, all with dinosaurs on the cover! Robert Sawyer had made a terrible mistake, especially if he wanted to keep me as a reader. Going against the tide, I never had much interest in dinosaurs, so I passed up his latest novel.
Rob, I apologize. It was actually my mistake, not his. How was I to know that the novels were about an alien world where intelligent dinosaurs had evolved, and the trilogy was about their three greatest thinkers, corresponding to Galileo, Darwin, and Freud? When I finally did read them, I found them as delightful and thought-provoking as Rob's first novel. But I'm getting ahead of myself.
Cut to 1994. I've gotten to know Rob a tiny bit as a person on the Genie network, and as it is so happens, he will be present at Contradiction, a convention held in Niagara Falls. Normally I would never have gone the distance to attend, but naturally I couldn't pass up the chance to meet Rob. (Well, actually, I went to meet an editor to whom I was trying to sell a story, but let's not remind Rob of that.)
I went to his reading, and introduced myself. I swear that his face lit up immediately with recognition, and he greeted me very warmly. He got even more friendly when I told him that I got no sleep on my overnight train, as I spent the entire time reading his latest novel, End of an Era.
Although I didn't hang out with Rob as much I might have during that convention, I did spend enough time with him to see that Rob was not only a terrific writer, but also one of the nicest, most decent of the people in the field. And, of course, it didn't hurt that we hung out in the con suite for a while, singing Gilbert & Sullivan.
In the summer of 1995 I got married, and my wife Nomi and I had to choose a location for a honeymoon. When we decided upon Toronto, I said, "Cool! Maybe we can hook up with Rob and Carolyn for a day." To which Nomi replied, "Who's Rob?"
Rob and Carolyn offered us a tremendous amount of hospitality. They took us out to dinner, and Rob let me wander around his home office and drool.
Before we left, Rob asked if we would do him the favor of going over his manuscript of Frameshift, and checking it for correctness of details on Judaism. The funny thing is that since then, Rob has asked me a few more times if I would be willing to go over one of his manuscripts in advance, and he is always hesitant and shy about intruding on my time. I keep having to explain to him that asking me to read his novels in advance is like asking me if I would mind having a free block of gold.
Anyway, I think Nomi and I can safely say that one of the most memorable days of our honeymoon was the one we spent in our hotel room, reading Frameshift from beginning to end. (Stop snickering.)
Robert Sawyer is not only one of the most interesting and intelligent writers out there, but he is also one of the nicest and friendliest. If you're lucky enough to be at a convention where he's present, do yourself a favor and say hello. And if you haven't done it yet, go out and read one of his books, like The Terminal Experiment (Nebula winner) or Starplex (Hugo nominee). If you don't like the book, I'll buy it off of you for my own collection.
---
Michael A. Burstein won the John W. Campbell Award for Best New Writer of 1997; he was also a Hugo nominee for his first published story, "Teleabsence." Michael's work appears frequently in Analog, and he is Secretary of the Science Fiction and Fantasy Writers of America.
---
More Good Reading
Michael A. Burstein Web Site
My short review of Michael's short story collection

Other convention book tributes:

---
---
Copyright © 1995-2020 by Robert J. Sawyer.