---
SFWRITER.COM > About Rob > Press Releases > Red Planet Blues (2013)

---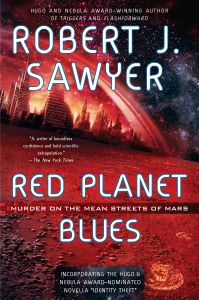 Press Release
For Release Tuesday, March 26, 2013
Sci-Fi Superstar Expands into Mystery
In today's perilous publishing climate, how do authors grow their audience? Globe and Mail bestseller Robert J. Sawyer is trying something new. Known internationally for his novel FlashForward, basis for the ABC TV series of the same name, his new book, Red Planet Blues, being published on March 26, 2013, is Sawyer's attempt to draw in the mystery-reading audience on top of the sci-fi one.
"Science fiction and fantasy have long shared shelf space in bookstores," Toronto-based Sawyer, 52, explains. "But as fantasy has grown, fueled by the popularity of the Harry Potter, Twilight, and Game of Thrones books — not to mention the renewed interest in J.R.R. Tolkien — science fiction is getting squeezed out."
But the new reality of online bookselling has changed things, perhaps for the better. "In a brick-and-mortar store, your book ends up on precisely one shelf, either science fiction or mystery," says Sawyer. "But Indigo and Amazon let you be on as many virtual bookshelves as you wish, allowing you to reach varied readers in ways never before possible."
Sawyer is uniquely qualified to reach out to mystery readers. Not only has he won the Science Fiction and Fantasy Writers of America's Nebula Award for Best Novel of the Year, he's also won Crime Writers of Canada's Arthur Ellis Award for Best Short Story of the Year. And he thinks science fiction is the answer to mystery's biggest problem.
"It's become increasingly hard to tell traditional detective stories set in the present day," Sawyer says. "Everyone knows about CSI-style forensics. It's almost impossible for a killer not to leave fingerprints or DNA. And our public and private spaces are increasingly covered by surveillance cameras. There's almost no room left — on Earth anyway — for the traditional whodunit. But for Red Planet Blues, I found a way around all that. The novel is set on a lawless frontier Mars — with no security cameras — and involves a technology that lets people transfer their consciousnesses into gorgeous android bodies, which don't have fingerprints and don't shed DNA. But who is actually inside any given body is anyone's guess, letting me tell a good-old fashioned mystery ... on the final frontier."
Sawyer is also drawing on his time as writer-in-residence at Pierre Berton's former homestead in Dawson City in the Yukon. "The novel is set against the backdrop of the Great Martian Fossil Rush, a tribute to the Great Klondike Gold Rush," he says. "The discovery of fossils of ancient life — something more valuable than gold or diamonds — has brought greedy stampeders to the red planet."
Sawyer immersed himself in classic noir fiction while writing the novel, including heading to San Francisco to visit Sam Spade's old haunts. "Red Planet Blues is definitely a homage to Dashiell Hammett's The Maltese Falcon, and also tips its hat to Raymond Chandler," he says.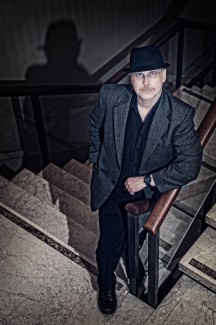 According to early reviews, Red Planet Blues has succeeded at serving both Sawyer's science-fiction audience and the mystery reading public. Bestselling mystery writer Linda L. Richards says, "Sawyer sets a classic work of noir against a Buck Rogers backdrop without ever hitting a sour note. Red Planet Blues is a perfectly executed gem of a book."
And Eric Wright, four-time winner of the Arthur Ellis Award for Best Mystery Novel of the Year says, "Imagine the plot of The Treasure of the Sierra Madre played out on the planet Mars. Sawyer has, and the result is wonderful in both senses — a terrific noir crime novel that is full of the wonders of Sawyer's sci-fi world. In Red Planet Blues, Sawyer has imagined, and written, his best book yet."
Penguin Canada is supporting Red Planet Blues with a coast-to-coast book tour with stops in Vancouver, Edmonton, Calgary, Saskatoon, Winnipeg, Waterloo, Toronto, Ottawa, Montreal, and Quebec City.
Sawyer is one of only eight writers in history — and the only Canadian — to win all three of science fiction's top awards for best novel of the year: the Hugo, the Nebula, and the John W. Campbell Memorial Award. According to the American science-fiction trade journal Locus, he has won more awards for his novels than anyone else in the history of the science-fiction and fantasy genres.
Red Planet Blues is Robert J. Sawyer's twenty-second novel and follows such bestsellers as Hominids; Calculating God; the WWW trilogy of Wake, Watch, Wonder; and Triggers, which Canadian publishing trade journal Quill & Quire named the top-selling science fiction or fantasy book in Canada for 2012.
For more information, see Rob's website at sfwriter.com.
To book an interview, contact Rob at Rob@sfwriter.com.
---
More Good Reading
More about Red Planet Blues
Book cover
Author photo

Press Release index
Rob's Newsletter

---
---
Copyright © 1995-2020 by Robert J. Sawyer.