---
SFWRITER.COM > Novels > FlashForward > Press Release

---
Press Release
For Release Monday, May 17, 1999
New SF Thriller from Nebula Award-Winning Writer Explores Destiny
FlashForward, the eleventh novel by acclaimed Toronto-area writer Robert J. Sawyer, will be a "June" 1999 hardcover release from Tor Books, New York. The book will be in stores across North America by late May.
FlashForward is built around the kind of high-concept that Hollywood loves: an experiment goes awry at CERN, the European Center for Particle Physics, causing the consciousness of everyone on Earth to jump ahead 21 years for a period of two minutes.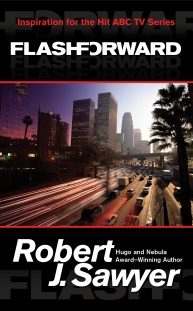 "I got the idea at a high-school reunion," says Sawyer, 38. "The lives of so many of my friends had turned out completely differently from what they had expected. We were all saying, `If I'd only known then what I know now . . .' FlashForward came out of that: what would people do if they really did have a glimpse — even just a two-minute glimpse — of what their lives would be like in the future?"
The novel plays with the concept of destiny — of whether the future is fixed, just as the past is, or whether it can be changed. Sawyer draws on the latest thinking in theoretical physics to answer this most human of questions.
As the story opens, two of its main characters — Lloyd Simcoe and Michiko Komura — are about to get married. But their insights into the future reveal that they will be married to other people two decades hence. Should they go through with their planned wedding knowing it is apparently doomed to failure? Another of Sawyer's main characters has no vision at all. Theo Procopides, a young Greek physicist, is shocked to learn that he will be dead just twenty-one years hence. Indeed, it turns out that he will be murdered just before the time other people are having visions of. Can he figure out who is going to kill him, and find some way of preventing it from happening?
(Sawyer's work often combines SF and mystery. He's previously won an Arthur Ellis Award from the Crime Writers of Canada, and The Globe and Mail, Canada's national newspaper, named Sawyer's Illegal Alien — a courtroom drama with an extraterrestrial defendant — "the best Canadian mystery of 1997.")
FlashForward has already won the world's largest cash prize for SF writing, Spain's one-million-peseta (US$7,000 or Cdn$11,000) Premio UPC de Ciencia Ficción, given by the Universitat Politècnica de Catalunya. Critic Brian Aldiss calls the Premio UPC "the most prestigious SF award in all of Europe."
Sawyer's sixth novel, The Terminal Experiment, won the Nebula Award (the "Academy Award" of Science Fiction) for Best Novel of the Year. His seventh novel, Starplex, was the only novel to be nominated for both a Hugo and Nebula Award in 1997, his eighth novel, Frameshift (also available from Tor), was a 1998 Hugo Award finalist, and his tenth novel, Factoring Humanity, was a 1999 Hugo Award finalist. Meanwhile, Rob's novel End of an Era won the Seiun Award, Japan's highest honor in SF, for Best Foreign Novel of the Year. Rob has also won five Aurora Awards, Canada's top honor in SF.
The New York Times calls Sawyer "a writer of boundless confidence and bold scientific extrapolation." The Montreal Gazette says he's "Canada's answer to Michael Crichton." And The Rocky Mountain News declares "Robert J. Sawyer is fast becoming one of the most important names in science fiction."
Sawyer's tenth novel, the Hugo Award-nominated Factoring Humanity ("an intelligent and absorbing double-stranded narrative that accelerates to hyperspeed in the last few pages" — Kirkus), which Tor published in hardcover in May 1998, will be reissued in paperback simultaneously with FlashForward's hardcover release.
---
More Good Reading
More About FlashForward
Press Release index
Top Ten Things to Know About Robert J. Sawyer
Rob's Newsletter

---
---
Copyright © 1995-2020 by Robert J. Sawyer.